How to Give Your Condo Color and Personality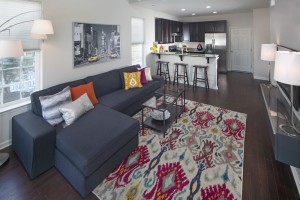 Do you love your, but feel that it's time to upgrade and refresh its look? Every home needs a design re-start from time to time. Depending on your style and budget, there are plenty of ways to add color and personality to your condo.
Enhance with lighting
Lighting can – and should – be more than strictly utilitarian; it sets the mood of the space. Abundant low lighting on dimmer switches allows multiple options for creating atmosphere. Chandeliers and sconces can be a bigger commitment, but also make for a more drastic style revamp.
Try a decorative wall treatment
Beige, in theory, goes with every style. But it may not exactly be your style. There are several options for big style changes in a range of budgets when you opt for decorative finishes for the walls. Here are just a few ideas:
Wood paneling has come a long way from 1970s pine paneling. Consider a rough finish around the fireplace for a rustic look, or a smooth finish in the den for some polish.
Textured wallpapers are available in timeless or trendy designs. They can be painted to match your decor and removed with relatively little trouble.
Upgrade hardware
Whether your doors and cabinets are decorative or plain, new hardware adds an instant personalized touch. Decorative hardware comes in a range of price points, but even the highest end options offer a big bang for the buck. Best of all, they are easy to change if you decide on a different look down the line.
Add trim and molding
Decorative trims, including baseboards and ceiling moldings, add a refined touch to plain walls. The style and color of trims can lend either a classic or a modern look. Well-chosen ceiling trims will make the room feel larger or smaller depending on execution.
Accessorize with style
Adding carefully chosen accessories is the most versatile way to add some personal flair. Lamps, vases, rugs, furniture – each element adds to the overall atmosphere of a home. When choosing these items, take the opportunity to make a statement while putting your own stamp on your condo.
Find Delaware condos
Busy home owners in DE love the carefree ease of condominium living. The beautiful communities from Montchanin Builders feature condo homes with plenty of personality and sought-after amenities. To find out about condos for sale in Delaware, call Montchanin Builders today.
More on how to add personality to your condo:
Chatelaine, 7 ways  to add personality to a cookie cutter condo, http://www.chatelaine.com/home-decor/condo-design-decor-ideas/image/7/
Forbes, 10 Easy Ways To Decorate Your Home With Lighting, https://www.forbes.com/sites/marcellefischler/2013/01/18/10-easy-ways-to-decorate-your-home-with-lighting/#5e37bcf81497