Townhomes at Darley Green Take the Stress Out of Buying a Home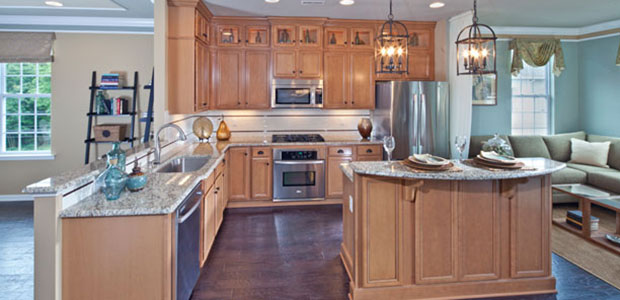 So you're on the couch in your one bedroom rental apartment washed out after a hard day of work and a long commute home. The neighbor next door is blasting Wagner's "Flight of the Valkyries" right through the paper-thin walls. You look around and realize you're literally being squeezed out the door by an accumulation of toys, strollers, playpens, bikes, dogs, and whatever else you've dragged home and not figured out how to get rid of.
Extreme? Not really. But it may finally be the right time to start thinking about building a life together in a new home. Don Robitzer, one of the leading home builders in Delaware understands that one of the most cherished American Dreams for many of us is the simple vision of raising a family in a comfortable home in a quiet, safe neighborhood. If you've been watching the real estate market and conscientiously putting your money away for a down payment, you know it may now be a perfect time to buy.
Marti Steele Kilby, a real estate broker/owner with Steele Group Realty in La Mesa, CA , recently wrote a piece in Forbes, "Home Buying as a Couple? Here's How to Avoid a Break-Up"about some simple common-sense steps to keep the stress level down when a couple decides to buy their first home.
(302) 472-7212

Call Today for Details about our Darley Green Community

Tips for buying your first home as a couple
The first step will save you worlds of grief later. Have a frank discussion about what each of you wants in a home and understand where you're willing to compromise. Being willing to listen and give and take is perhaps the most important key to buying a home you'll both love.The second is to put yourselves in a position to buy by ordering your credit reports and speaking with a mortgage professional. He or she will help you position yourselves as buyers that a lender will want to do business with.Take a hard look at your budget and decide what you are really going to be comfortable with in terms of monthly costs.
A realistic self-appraisal now of your capabilities is essential. Pie in the sky projections of new jobs and promotions that might not happen is a recipe for trouble.If you see a home you really like, chances are that someone else really likes it too. Talk it over between you, listen to your mortgage professional, and make a realistic offer before it's gone and you're disappointed.Once the seller has accepted your offer, be on time with any requested documentation and you'll have a stress free closing. Remember—communicate honestly with each other throughout the process and have some fun! It's your new home!

(302) 472-7212

Call for More Information About Darley Green Luxury Town Homes

Darley Green's new homes in Wilmington make owning easy
For the easiest, most stress-free process of all, take a drive to nearby Darley Green and see the American Dream come to life in its delightful small town atmosphere. With beautiful and affordable condos and townhomes for sale in Delaware, you'll be surprised at how much home you can get for your investment.
Darley Green's team will show you how easy it is to own a new home. Take a walk through our outstanding selection of affordable and new Delaware townhomes designed to fit exactly how you want to live. Whether you're a single professional, young family, or retiring downsizers, there's an affordable and luxurious custom layout to suit.To learn more about our affordably-priced new homes near Wilmington, DE, please call Amy Maluski at Montchanin Builders.