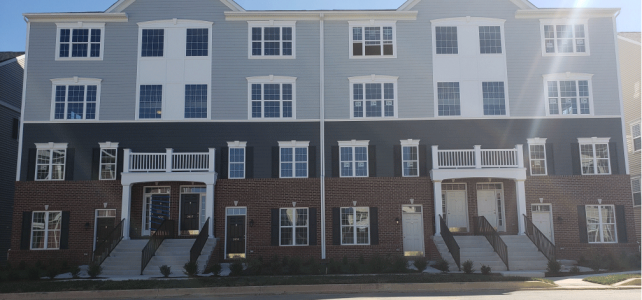 Townhome Living: 3 Advantages of a Low-Maintenance Lifestyle
When you picture yourself in your own home, what do you see? Kids playing in the yard? Waving to the neighbors as you pull in the driveway? Hosting fabulous dinner parties for friends and family? Chances are, you aren't picturing the less glamorous side of homeownership: Maintenance and upkeep. As rewarding as it is to own your own home, it's also a lot of hard work. There's snow to shovel in the winter, grass to cut in the summer, and leaves to rake in the fall. The never-ending maintenance tasks associated with homeownership is just one of the many reasons why so many people are choosing to purchase new homes in Delaware townhome communities. Here's a look at some of the benefits you can look forward to with townhome living.
Save your back from shoveling snow and raking leaves
There's nothing wrong with a little manual labor once in a while. In fact, if you have an office job that requires you to stare at a computer all day, you might catch yourself fantasizing about spending a day gardening or refurbishing a deck. But when you get down to the business of raking leaves and shoveling snow, you'll quickly realize that there's a good reason why a maintenance-free lifestyle is appealing. So, banish those callouses and backaches, because townhome living includes exterior maintenance! At Montchanin Builders' planned community, Darley Green, you'll never have to worry about shoveling snow or raking leaves.
(302) 472-7212

Call for More Information About Darley Green Luxury Town Homes

There's no need to look for reliable maintenance help
If you've ever had to hire a landscaper or a similar contractor, then you know how nerve-wracking the process can be. Should you do a background check? How exactly does one go about doing a background check? What if the contractor doesn't finish the job? And what options do you have if the landscaper mows over your prized begonias or the plow operator scratches your car?
With low maintenance townhome living in a community like Darley Green or The Overlook at Rockford Falls, there's no need to worry about finding reliable maintenance help—it's all taken care of for you.
A world of opportunities… right at your fingertips
Delaware townhome communities are your chance to experience the good life. You'll have incredible neighborhood amenities within walking distance. Enjoy the wide-open spaces, walking trails, and neighborhood gathering areas. Walk over to a local shop or restaurant. Get in better shape with help from the beautiful jogging paths. The possibilities are virtually limitless.
(302) 472-7212

Call Today for Details about our Darley Green Community

Explore the best of townhome living in Delaware
Are you ready to take advantage of low-maintenance Delaware townhomes? Montchanin home builders in Delaware invites you to explore our beautiful, new homes in our Delaware townhome communities of Darley Green and The Overlook at Rockford Falls—one of our newest, highly sought-after neighborhoods. You'll get the benefits of low maintenance living in our new, move-in ready homes, plus easy access to neighborhood amenities. And if you ever feel the need to experience the bright lights of the big city, Philadelphia is a quick drive away! Call us today or fill out our online contact form to get the ball rolling!
Additional resources for new home buyers:
HGTV, How to Buy in New Construction, https://www.hgtv.com/design/real-estate/how-to-buy-in-new-construction
Realtor.com, How to Buy and Sell a Home at the Same Time, https://www.realtor.com/advice/buy/buying-a-house-while-selling-a-house/