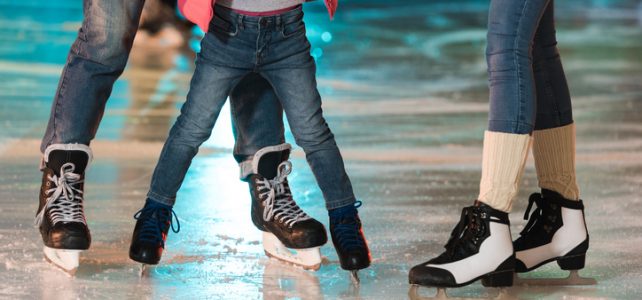 Best Places to Go Ice Skating in Wilmington, DE
Whether you're a complete beginner or an accomplished athlete, ice skating is an enjoyable way to spend an afternoon with family and friends. There are a couple of skating rinks in Wilmington, DE, and a few more that are just a short drive away. When you go to the rink, wear comfortable athletic clothing. Leggings, a long-sleeve T-shirt, and a sweater or sweatshirt will keep you warm. You should also bring gloves or mittens, and a hat or scarf.
The Riverfront Rink
Most skating rinks are outdoors, but families in Wilmington, DE are treated to an outdoor arena every winter! The Riverfront Rink is a seasonal attraction located at the Justison Landing Green on the Riverwalk. This season, the rink will remain open until March 4, 2019. The Riverfront Rink is fairly large, able to accommodate up to 350 skaters, and all ages and ability levels are welcome.
Although it's a temporary, outdoor installation, this ice skating rink doesn't skimp on the amenities. You can rent skates there, or get your own skates sharpened. A limited number of locker rentals are also available. The rink is open seven days per week through the season. Parents: If your child's birthday is coming up, consider purchasing a private party package! Other reservations are taken for fundraisers and other private parties.
The Skating Club of Wilmington
The Skating Club of Wilmington is a unique fixture in the community. It's a nonprofit group that strives to accommodate a balanced blend of hockey, ice dancers, figure skaters, serious competitors, synchronized skating teams, and recreational skaters. Skaters of all ages are welcome here.
If you're interested in taking ice skating lessons, this is the place to go. The rink offers child, youth, and adult classes. Group and private lessons are available. Like the Riverfront Rink, the Skating Club of Wilmington also offers reservations for private fundraisers and birthday parties. The onsite Sharper Edge Skate Shop offers sharpening, waterproofing, and skate and boot repairs.
IceWorks Skating Complex
The IceWorks Skating Complex is located in Aston, PA, which is just a 20-minute drive away from Wilmington. Its name says it all—it's a huge complex that includes three NHL-size ice rinks and one Olympic-size rink. It also includes a pro shop, arcade, restaurant, and a Pub and Grill. More than 180 hockey teams at all levels call IceWorks home. It's also home to the IceWorks Skating Club.
Homes for sale in Wilmington, DE
Fantastic recreational opportunities and family-friendly activities are just a few of the perks of living near Wilmington, Delaware. If you're thinking of moving to the area, or you're already a resident and you're ready for your dream home, it's time to check out the picture-perfect Delaware townhome communities designed by veteran home builders in Delaware, Montchanin Builders.
Our new home communities in Delaware, including Darley Green, The and The Overlook at Rockford Falls, feature gorgeous affordable family home communities and single-family homes. All move-in ready homes are designed with the needs of today's modern family in mind. Schedule a viewing today and ask us about special financing deals by calling 302-472-7212.
Additional resources on Delaware living:
Riverfront Rink, http://riverfrontrink.com/
The Skating Club of Wilmington, https://skatewilm.com/