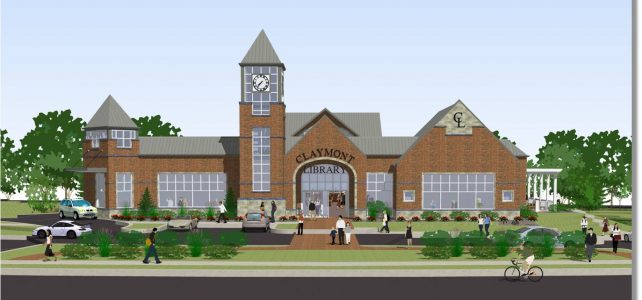 Claymont Library
In October of 2013, Delaware residents rejoiced in the grand opening of the state-of-the-art Claymont library, a facility which has become a cornerstone of the Claymont Community. For lawmakers and denizens of the region, the library opening signaled the continuing rebirth of the Claymont District, which has swiftly become one of the most desirable locations for homeownership thanks to its enhanced residential neighborhoods and continuing economic growth.
New Castle County officials decided to build the library adjacent to the master-planned community of Darley Green – what many have labeled the crown jewel of the Claymont renaissance. Don Robitzer of the Commonwealth Group aptly foreshadowed the library's influence by stating, "The selection of this site will go a long way in advancing the vision of a livable, walkable community that will make Claymont a more exciting place to live, work and play."
Claymont library history & rebirth
First opened by the town's Woman's Club in 1929, the Claymont Library was originally housed in the Claymont Stone School at Philadelphia Pike and Darley Road. Entirely overseen by a staff of volunteers, the library lent out donated books and also doubled as the town's public kindergarten. By 1975, the library joined the New Castle County Library system and in 1988 was moved to the Claymont Community Center, where it served a rapidly growing number of patrons.
On October 26, 2013, local residents celebrated the opening of the new Claymont Library at 400 Lenape Way, within a lovely 7.5 acre parcel of Darley Green. This stunning new facility is not only an architectural tour-de-force, it provides an inviting space for children and adults to borrow books, participate in community events, work on new computers, and be a part of a safe place to learn, play and broaden their horizons.
This commanding public building is one of the focal points in Darley Green, where residents take advantage of well-equipped study and meeting rooms, a drive-up window, as well as dedicated areas for children and teens. A beautiful outdoor pergola and walking trails add to the library's aesthetic appeal, and offer wonderful spots for quiet contemplation or reading during the warmer spring and summer months.
The Claymont Library offers the public:
30 computers with programs such as Powerpoint, Excel and Microsoft Word
Wireless Internet throughout the premises
Convenient drive –up window
Large collection of books for every age and interest
Reference materials
Recent newspapers and magazines
E-books and audio books
Large selection of music CDs
Educational and entertaining DVDs
Books available in large print
Assistance from helpful librarians
Services offered by Claymont Library
Legislators and community members made a solid investment in their future when they built the modern Claymont Library, a public facility that is sure to enhance the lives of coming generations.
The facility boasts a high-tech online catalog, which allows patrons to search reference materials, newspapers and articles in libraries scattered throughout Delaware.
Computer and additional services include:
Photocopier
Printer with black and white printing
Inter-library loans
Conference room
Reader's advisory
Workshops and programs designed for teenagers
Story time and activities for children
Adult-themed programs and events
Summer art enrichment programs
Book Club, Crochet Club as well as additional programming
Every month, patrons will discover a wide range of interesting events and programs in which to participate. Workshops, lectures and performances are presented by local artists and institutions including the Delaware Natural History Museum.
Special emphasis is placed on children and adolescent-appropriate events, from interactive storytelling with props to "teen time" board games and family get-togethers to enjoy some friendly competition with X-box video games. From time to time, PAWS for People even brings out their furry therapy companions to children's story time to help inspire a love for reading!
The monthly calendar also promises something for adults of all ages, such as literature discussions, seminars on starting your own business and enlightening workshops on how to maximize your retirement income.
Open six days a week (closed on Sundays), the library stays open until 8 PM on Mondays, Tuesdays and Thursdays, making it that much easier for residents to swing by after work.
Meeting & surpassing the community needs
In its first year at Lenape Way, the Claymont Library was visited by more than 111,693 patrons, with nearly 4,500 people attending its various programs. Thanks to successful fundraising events and the support of generous sponsors, the Claymont Library has continued to improve its services to the benefit of Darley Green residents and those throughout the Claymont and adjacent communities.
Owners of condos and townhomes in Darley Green will attest to the countless marvels of Delaware living, which was only gotten better with the addition of the contemporary Claymont Library. To learn more about this one-of-a-kind community by Montchanin Builders, please call our Information Center at 302.655.2600.