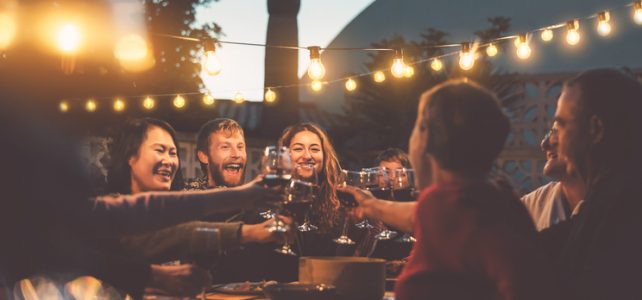 Best Outdoor Dining in Kennett Square
There is something special about al fresco dining. Diners have long enjoyed delicious food out in the open air, but during the pandemic, outdoor dining became particularly popular due to safety concerns. In Kennett Square, Pennsylvania, you'll find no shortage of outdoor dining options. In fact, the fabulous restaurant and wine scene is one reason why so many people are gobbling up new construction homes near Kennett Square. Check out the following al fresco dining options!
Café de Thai
If you're in the mood for Asian food, Café de Thai is a must-try. Café de Thai is an elegant restaurant that serves up authentic Thai cuisine at indoor and outdoor seating arrangements. They offer traditional Thai dishes, including:
Pad Thai
Thai red curry
Firecracker shrimp
Chicken satay
& even Thai-style hot wings!
This restaurant prefers to source as many of its ingredients as possible from local farmers' markets and other local vendors, so you can trust the freshness of their menu items and feel good about patronizing multiple local businesses at the same time. Reservations are strongly encouraged.
(302) 472-7212

Call to Inquire about Kennett Pointe Town Homes

Portabello's of Kennett Square
Portabello's is fine dining at its best. This romantic restaurant is perfect for a date night, whether you choose indoor or outdoor seating. The menu changes from one season to the next to allow the chefs to take advantage of the freshest possible ingredients. Some seasonal favorites include:
Fig and goat cheese pizza
Steak Portabello
Crispy duck
Avalon crab cakes.
Portabello's also offers an extensive wine list and creative cocktail menu.
The Creamery of Kennett Square
The Creamery is an expansive restaurant that has long offered outdoor dining options. The facility was originally home to the Eastern Condensed Milk Company, founded in 1902. In 2016, the space was converted into a pop-up beer garden and community space. The success of the pop-up event turned The Creamery into a full-time business, complete with beer garden and delicious food (including a kids' menu). This innovative restaurant routinely features live music and a range of local artwork, inviting its guests to enjoy new artistic expression in the spirit of community.
(302) 472-7212

Call Today for Details about our Kennett Pointe Community

Explore new construction homes near Kennett Square
You can take advantage of everything that Kennett Square, Pennsylvania, has to offer when you move to Kennett Pointe—the exclusive new community by Montchanin Builders. Comprised of just 53 luxury townhomes and loft-style apartments, Kennett Pointe offers an ideal blend of in-town amenities and spacious living. Our thoughtfully designed townhomes near Kennett Square follow a spacious layout, and outdoors, you'll enjoy beautiful landscaping and tree-lined boulevards.
Call Montchanin Builders today to schedule a tour of our townhomes in Kennett Square or Darley Green, and be sure to ask about special financing offers!
More on outdoor dining in Kennett Square: