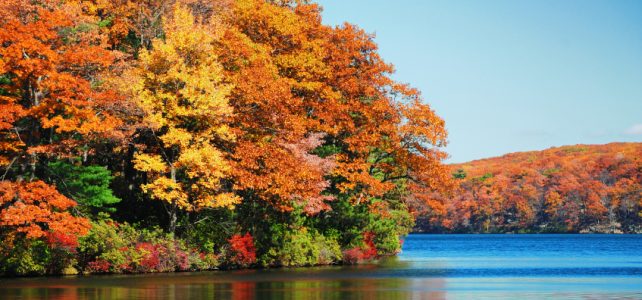 3 Romantic Autumn Escapes in the Brandywine Valley
The Brandywine Valley is a pastoral paradise, filled with dazzling country estates, artisanal vineyards and flowering gardens. Considering the spectacular fall foliage and cooler temperatures, autumn is the perfect time of year to enjoy a romantic escape in Brandywine Valley, Delaware.
Here are three special Brandywine valley attractions to take your loved one to this fall!
Brandywine Wine Trail
Experience all that makes the Brandywine Valley such a romantic wine-tasting destination. Explore five enchanting estate vineyards and sample small batches of premium varietals on a tour of the Brandywine Wine Trail. There are cozy tasting rooms and barrel-aging cellars filled with Merlot, Petit Verdot, Cabernet Sauvignon, Sauvignon Blanc, Malbec and Syrah. Set midst some of the area's prettiest scenery, these family-owned establishments are uniformly lovely and produce some exceptional wines. As an added bonus, a romantic vineyard escape is within minutes of nationally-acclaimed attractions like the Winterthur Museum & Country Estate and the Brandywine River Museum of Art.
Sweetwater Farm Bed & Breakfast
Brandywine Valley's picturesque countryside was made famous by the works of Andrew Wyeth, and there's no better place to immerse yourself in this natural beauty than Sweetwater Farm Bed & Breakfast. This 50-acre historic estate, with its breathtaking grounds, is the perfect destination for a heavenly autumn escape. The Inn's Quaker farmhouse dates back to 1734, and later additions have provided 14 elegantly-appointed guest rooms spread among the Manor house and surrounding cottages. There is a wonderfully cozy den with roaring fire, a billiard room and hiking trails that wind through pastures and fields. The Grace Winery is the latest addition to the property, and a relaxing spot to sample wines, cheeses and chocolates while mingling with other guests. Rooms are spacious, private and kept deliciously warm thanks to gas fireplaces.
Longwood Gardens
Experience the glory of autumn foliage at Longwood Gardens, which changes with the seasons. Voted one of the best public gardens in America, Longwood is one of the most romantic places to view fall's vibrant colors. You'll find this landmark attraction on 1001 Longwood Road in Kennett Square. Take a leisurely stroll through Meadow Gardens, or visit the Conservatory where Asian-inspired lanterns are sure to set your heart aglow.  October evenings feature illuminated fountain performances, live music and other themed events. Autumn's colors are on view at Longwood Gardens until November 18 – book your tickets in advance!
Homes for sale near Brandywine DE
Romantic escapes are just one great reason to move to Delaware, particularly to Wilmington and the Brandywine Valley. The region is brimming with stately manor homes, family-friendly townhouses and luxurious condos close to stunning attractions. If you're considering Brandywine Valley DE real estate, or move-in ready homes in Wilmington, contact Montchanin Builders for more information about our fantastic residential communities like Darley Green. In terms of central location, quality construction and amenities, you won't get better than Montchanin Builders' new construction condos and townhouses.
We offer attractive financing options, low mortgage rates and welcome you to schedule a home tour today!
Additional Resources on Brandywine Valley Fall Escapes:
Travel Channel, Brandywine Valley Weekend Guide https://www.travelchannel.com/destinations/us/pa/articles/brandywine-valley-weekend-guide
NorthernVA magazine, Take a weekend getaway to Brandywine Valley https://www.northernvirginiamag.com/things-to-do/travel/2017/09/05/take-a-weekend-getaway-to-brandywine-valley/
Visit Wilmington, Autumn Weekend Escapes for Couples & Girlfriends in Wilmington & the Brandywine Valley https://www.visitwilmingtonde.com/plan-your-trip/blog/post/stunning-autumn-weekend-escapes-for-couples-girlfriends-in-wilmington-the-brandywine-valley/