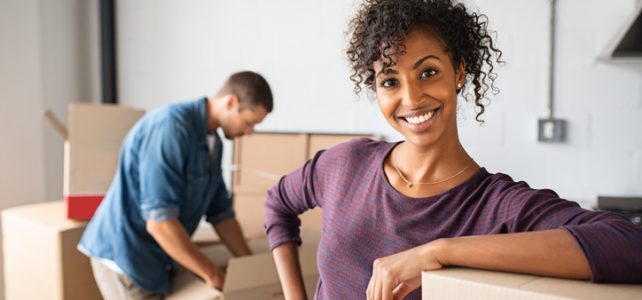 3 Signs It's Time for You to Move
Ever wonder if you've become so used to your current home that you're missing the glaring signs that it's time for an upgrade? Making a list of specific reasons to move – such as wanting more space or being closer to work – can help you focus your search for new homes in Delaware that will match your needs perfectly.
Not sure if house-hunting should be in your future? Check out this list of telltale signs that it's time for you to move.
1. Your Family is Growing.
Babies don't take up so much room, but their playpens, changing tables, and toys can soon consume the house. As your child grows older, fights over bathroom hogging and the desire for autonomous space to finish homework becomes inevitable. Expanding to a larger space in a comfortable community is a great solution.
Darley Green attracts home buyers with growing families who are drawn to the beautiful, tree-lined streets, ample park space, nearby restaurants and shops, and spacious homes. Our new-construction townhomes and condos are affordable, charming, and can be personalized to your preferences.
2. You're Running Out of Space.
Many people are motivated to move because their current apartment or home doesn't meet their storage needs. Is your living space cramped and your closets overflowing with stuff? Do you dream of having an additional bathroom, more closet space, or even a 2-car garage? Or maybe you crave extra space for work, study, relaxation, or working out.
Darley Green has beautiful homes available with spacious open floorplans, offering up to four bedrooms, 2.5 baths, master bedrooms with walk-in closets, and two-car garages. Enjoy up to 2,500 square feet of finished living areas to give you more breathing space and storage options.
3. You're Spending Too Much Time Commuting.
About 9 percent of Delaware's 430,000 workers have commutes that top an hour. If you currently have a long commute to Wilmington or Philadelphia, you may be dreaming about all the things you could do with all that lost time.
Darley Green offers a location that is just 10 minutes from downtown Wilmington and 20 minutes from downtown Philadelphia. You can reach I-95 in less than five minutes, I-495 in two minutes, and the Philadelphia International Airport in 15 minutes. You're also within convenient walking distance to Claymont Train Station, with a DART bus stop on-site.
Move-in ready homes in Delaware
With scenic landscaping, convenient location, spacious floorplans, and highly rated schools, the luxury townhouses and condos at Darley Green are designed to cater to your every home buying need. Our beautiful move-in ready homes offer the latest modern amenities with a peaceful atmosphere reminiscent of a small-town neighborhood – all within close proximity to the city of Wilmington and a quick commute to Philadelphia. If you would like to discover our new homes in northern Delaware for yourself, please get in touch with us today to schedule a tour. Make sure to ask about our industry-leading financing options!
Additional Resources:
Insider.com, 6 signs that it's time for you to move somewhere new, https://www.insider.com/signs-you-should-move-2018-3
Bob Vila, 11 Signs It's Time to Move, https://www.bobvila.com/slideshow/11-signs-it-s-time-to-move-51391