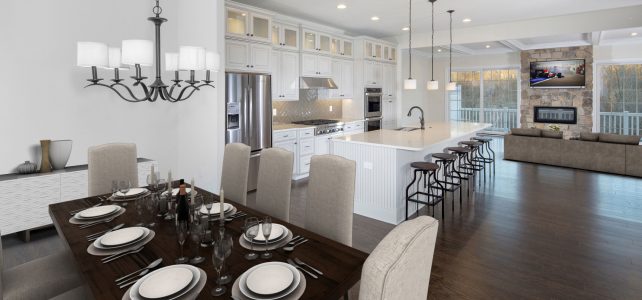 4 Benefits of an Open-Floor-Plan Home
An open floor plan features the seamless transition between two or more traditional-use rooms, such as the kitchen and living room, with no partitioning walls. Since the 1990s, the open floor plan concept has been popular among homebuyers, with good reason. The communal living space provided by this layout supports smoother traffic flow and a greater sense of togetherness. If you're thinking about buying a new, move-in ready home with an open floor plan, consider the following advantages.
Open floor plans support the flow of traffic
Homes with more than one occupant, as well as those that frequently host guests, will benefit from having an open floor plan. This layout allows individuals to travel unhindered from one room to the next, without getting jammed up at doorways or narrow hallways.
Open floor plans encourage communication
Another perk of the open floor plan concept is its effect on communication. Because the line of sight is unhindered from one room to the next, it's easy for a person in one room to communicate with someone in another room. For example, if you're preparing food in the kitchen, you'll be able to easily chat and interact with others in the living room or dining room. Households that often have guests over typically find that the open floor plan supports hosting, making it a top choice for those who enjoy entertaining.
Open floor plans offer more natural light
No amount of lamps can replace the beauty and functionality of natural light. And with an open floor plan, you'll get plenty of it. Since these homes do not have lots of partitioning walls, the natural sunlight is allowed to freely flow from one room to the next.
Home sellers enjoy higher resale value
There is no doubt that open floor plan layouts are highly popular with homebuyers. For this reason, this layout can increase the resale value of your home and is a financially smart decision. If you do decide to sell your home later on, it should be easier and quicker for you to sell an open floor plan home compared to a more traditional house.
Beautiful houses for sale in New Castle County, Delaware
If the thought of an open floor plan home appeals to you, you'll love the innovative layouts of the move-in ready homes offered by Montchanin Builders. Our townhomes and condos have plenty of open spaces, high ceilings, and masterful finishing touches.
Our communities—including Darley Green and The Overlook at Rockford Falls—are master-planned neighborhoods that feature tree-lined streets, community gathering areas, and convenient amenities within walking distance. Get in touch today to inquire about special financing offers for our homes for sale in Wilmington, Delaware.
Additional resources for home buyers: