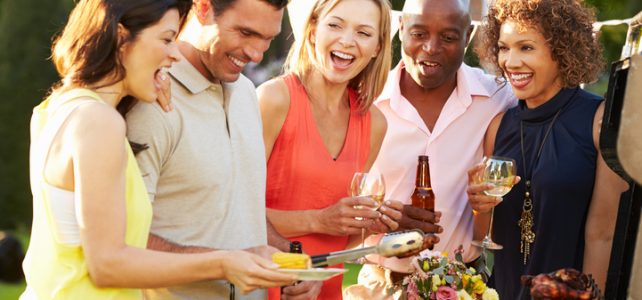 4 Easy Outdoor Entertaining Ideas
One of the exciting aspects of buying a new home in northern Delaware is the beautiful scenery. Your new home is the perfect backdrop for hosting an outdoor get-together for friends and family. Whether you're planning a formal gathering or a casual get-together, use the following suggestions to get started with the planning process.
Select a theme
It isn't strictly necessary to choose a theme for a party, but it can be a helpful way to pull the event together and get everyone on the same page. If you do choose a theme, it's best to send out invitations for the event that explains the theme and offers general recommendations for attire. Look beyond the time-tested Hawaiian-themed parties.
For example, you could throw a Prohibition-era party that borrows from elements of speakeasies. Encourage guests to choose clothing reminiscent of the 1920s. Hold the party in the evening under outdoor lighting. Play jazz or blues, serve cocktails, and play music in the background. You could even use invitations that look like speakeasy membership cards.
Host a potluck
If you'd rather plan an informal outdoor party, consider hosting a potluck. Potlucks are much beloved by hosts everywhere because having the guests do some of the work means the hosts can socialize freely during the party. To ensure that your buffet table isn't overly burdened with desserts and appetizers, you could circulate a "To Bring" signup list via email.
Plan activities to keep the kids busy
Unless you're planning an adults-only party, you'll need a way to keep the kids busy and out of trouble. It's best to select child-friendly activities that don't require much adult assistance. Set up crafts stations that are simple enough that the kids don't need directions, such as a bubble blowing station. If you're expecting a few toddlers, purchase a set of ball-pit balls and dump them into a dry kiddie pool. And don't forget to serve some child-friendly food!
Have a backup plan
Even the most carefully planned outdoor party can be derailed by an unfavorable weather forecast. It's always a good idea to have a backup plan. If you're inviting too many people to comfortably fit into your living room or dining room, you'll need to temporarily add on to your living space. Purchase or rent an outdoor canopy to give your deck or porch a roof. Throw open the door so your guests can freely mingle in or out of the house.
Looking for new houses for sale in Wilmington, DE?
You're in luck! Montchanin Builders still has new homes for sale in our beautifully designed communities of Darley Green and The Overlook at Rockford Falls! These home sites are perfect for folks who love to entertain. Both communities feature plenty of open spaces and lots of greenery. The Overlook at Rockford Falls offers views of Alapocas State Park and is near the Brandwine Creek —an ideal setting for backyard parties. If you're looking for new homes in northern Delaware, schedule a viewing today!
Additional resources for outdoor living:
Real Simple, 24 Tips for Easy Outdoor Entertaining, https://www.realsimple.com/holidays-entertaining/entertaining/seasonal-events/easy-outdoor-entertaining
Better Homes & Gardens, Easy Outdoor Entertaining Tips and Ideas, https://www.bhg.com/party/birthday/themes/easy-outdoor-entertaining-tips/