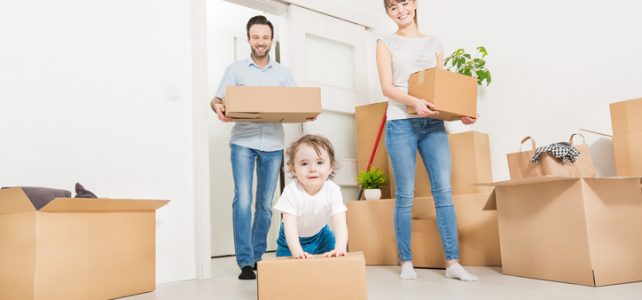 6 Moving Essentials: Everything You Need for Moving Day
Moving into a new home is one of those milestone occasions – one that you will remember for the rest of your life. Amid the excitement, chaos, and last-minute tasks, it's easy to overlook some necessities, or accidentally pack away practical items that you'll want handy.
Essential Items for Moving Day
Preparation and planning are crucial, but it's all too easy to make simple mistakes when your mind is laser-focused on setting foot inside your new space. There's nothing like meticulously packing away your entire household, only to discover you can't find your child's toothbrush or your phone charger.
While there may be some unexpected hurdles, this list of moving essentials can make your big day a more enjoyable and stress-free affair.
#1. Cleaning Supplies
No one wants to move into a home that isn't spic and span. Even if the house was "cleaned" before your moving day, you (and your movers) will likely be tracking in plenty of dirt with all the foot traffic. Keep these supplies on hand to tackle those rogue dust bunnies and make your new digs that more welcoming:
Handheld vacuum
Disinfectant wipes
Glass cleaner
Multi-purpose surface cleaner
Paper towels
Broom and dust pan
Toilet cleaner
Dish detergent/sponge
#2. Towels, Pillows and Clean Linens
There is something about a freshly made bed with your own pillows that makes a house feel like home. Don't forget to set aside a box with towels, fresh bedding, and your pillows.
#3. Toiletries and Personal Items
Pack a separate bag that contains the contents of your medicine cabinet and bath. Include all the basics: Toothbrushes and toothpaste, soap, shampoo, conditioner, razors, toilet paper, and other must-have sundries. Your moving day essentials should also include any medications, vitamins, or supplements you regularly take plus some OTC pain reliever.
#4. Basic Tools
It's a smart idea to have a basic toolkit ready for moving day, especially if you need to re-assemble any furniture. We recommend a hammer, flat-head and Philips screwdriver, flashlight, measuring tape, and a multi-purpose utility knife for opening stacks of moving boxes.
#5. Chargers & Essential Electronics
If you are a large family with multiple devices, bring a power bar along with your various chargers. While you're plugging in, why not connect a Bluetooth speaker and play your favorite tunes.
#6. Meal Prep Necessities
Moving an entire household is hard work, and no one wants to get hangry. Have some bottled water and high-protein snacks on hand to sate appetites and fuel your day.
Moving day is practically made for takeout. Pizza. Mexican. Thai food. Whatever suits your fancy! But you still want to have a few plates, cups, and cutlery set aside for meals on the first few nights. And if you are a die-hard coffee drinker, keep your French Press or coffee maker in an accessible spot.
Move-in Ready Homes in Delaware For Sale
If you still haven't found the home that speaks to your desires, we encourage you to explore the beautiful condos and townhomes offered by Montchanin Builders. Featuring open floor plans, high ceilings, and luxury finishes, our new homes in northern Delaware tick all the right boxes.
Please call today to schedule a home tour or inquire about our financing options.