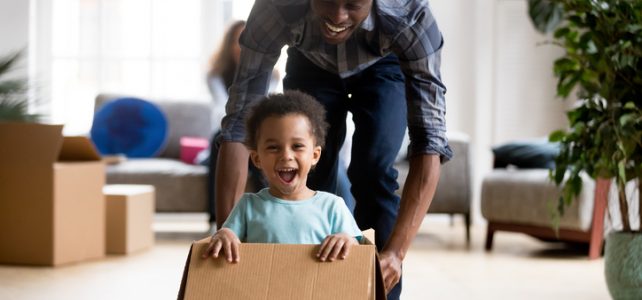 Best-Practice Tips for Packing Your Moving Boxes
Congratulations on finding your new home — but your work is not done! Make your moving process as stress-free, efficient and economical as possible with these five best practices for organizing your moving boxes. Remember, if you're not careful with the packing, a lot of your possessions can become lost or damaged by the time they arrive at your new home. Consider these tips for making your move smooth and hassle-free!
1. Fill the Boxes
Leave as little empty space as possible in every box. Excess empty space allows items to shift, thus increasing chances of them breaking. Homeowners have a tendency to pack all the clothing and other fabrics into their own boxes. However, consider using your clothing and towels as space fillers for the boxes. This saves you the cost of bubble wrap or packing peanuts.
2. Label the Boxes
Your moving supplies should also include an ample supply of permanent markers. Label every box so you know what's inside without having to open them. Instead of a generic label like "dishes" or "shoes," list every item like this:
Nick's running shoes
Anna's flipflops
Mom's rainboots
Dad's dress shoes
If there's too many items to list on the box, then keep inventory on a separate notebook or keep a digital record on your mobile device.
3. Heavy Items in Small Boxes
It's natural to think heavy items go in large boxes and light items go in small ones. When it comes to moving, the opposite is true. Heavy items like books and photo frames should go in smaller boxes. Lighter items like fabrics go in the jumbo boxes. Why? Cardboard boxes don't have a great weight capacity. It's easy to put too many heavy items in larger boxes, causing them to give out from the bottom.
4. Improvise Your Moving Boxes
Not every moving box has to be a typical cardboard box. If you have travel luggage, use them as supplementary boxes. The same goes for similar items you may have, such as portable storage drawers and Rubbermaid bins. Many of these are actually sturdier than cardboard boxes; plus, you contribute to the environment by cutting down on cardboard use.
5. Don't Overfill
The first tip was not to leave too much empty space. By the same token, you should also not overfill. As a general rule, a typical cardboard moving box should not exceed 30-pounds. If the box requires two people to carry, then it's too full. If the items extend beyond the opening and you have to force the lid shut, then it's also too full.
Have You Found a New Home Yet?
Now that you know the best way to pack, the next step is searching for your new dream home! Consider new homes for sale in Wilmington, Delaware at the master-planned communities of Montchanin Builders. Schedule a tour of our available properties today! If you're a Wilmington Delaware first-time home buyer, make sure to ask about our industry-leading financing options!
Additional resources:
Moving Waldo, How to Pack Your House Strategically, https://www.movingwaldo.ca/moving-tips/moving-boxes-how-to-pack-your-house-strategically/
Uhaul, How to Effectively Pack Your Moving Boxes, https://www.uhaul.com/Articles/Tips/24/How-To-Effectively-Pack-Your-Moving-Boxes/