Delaware's New Construction Homes near Philadelphia offer Convenience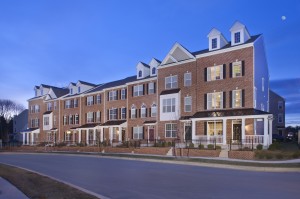 For such a pint-sized state, Delaware certainly packs a wallop when it comes to the qualities that people look for when searching for new construction homes near Philadelphia. Blessed with stunning natural beauty (Thomas Jefferson called it the "Jewel of the States") , a perfect coastal location central to Philadelphia, New York, Washington DC, and Baltimore, a low cost of living, and a reputation as perhaps the most tax-friendly state in America, Delaware is no longer the hidden gem of the Mid-Atlantic.
Delaware is now taking its star turn as one of the fastest growing states in the Union for single professionals, families, and retirees looking to settle down in a historically rich and culturally vibrant setting.
For instance, the city of Wilmington's location in northern Delaware is a huge bonus for folks who work in Philadelphia but want to take advantage of the economic benefits of Delaware living. For them, a quick twenty-minute commute to the delightful master-planned community of Darley Green in Wilmington makes tremendous sense.
This private sixty-seven acre development of affordable yet luxurious town homes and condominiums is the highly regarded work of the veteran craftsmen at Montchanin Builders, who  continue building one of the finest new and custom homes in Delaware. Montchanin's team of architects, landscape planners, and lifestyle experts has blended the comfort and serenity of a small town with the 21st century conveniences that sophisticated buyers want.
With rising prices in the Philadelphia real estate market, Darley Green is an affordable and smart alternative.
New construction homes near Philadelphia
Designed to provide easy livability and great design with Delaware convenience and affordability, Darley Green's new three bedroom townhomes and condos are attracting a broad mix of smart buyers of all ages—singles, young families with children, and retirees—who are taking advantage of Delaware's reputation as one of the most tax friendly states in the Union—no sales tax, no estate tax, low property tax, and a very low income tax rate.
If you're working in Philadelphia, one of the best features of Darley Green townhomes and condos is being so close to home! When you live at Darley Green, you are 5 minutes from I-95, 2 minutes from I-495, twenty minutes from downtown Philadelphia and just 15 minutes from Philadelphia International Airport. Baltimore is a one hour drive and New York City is only two hours away. 
Custom home builders offer an alternative to Philadelphia real estate market
What if your dream home exists only in your imagination and you want a partner to help bring your vision to life? Montchanin Builders are Delaware-based custom home builders, serving all of New Castle County including Wilmington & Claymont, Philadelphia, and surrounding areas within Southeastern Pennsylvania. If higher priced re-sales in the Philadelphia real estate market are looking less and less attractive, a custom home by Montchanin may be a great option.
Sixty years of combined experience in development, renovation, and custom home design and construction have enabled the veteran Montchanin team to assemble a knockout portfolio of custom homes for your review. Each Montchanin home is a reflection of our craftsmanship and our singular devotion to making the vision of our clients a reality.
Whether we are building a new home for a growing family or a retired couple moving into the next phase of their lives, Montchanin Builders will tailor our talents, services, and manpower to meet the particular requirements of your custom home, from concept to completion.
If you want to tour the new construction homes near Philadelphia at Darley Green, just e-mail Amy Maluski at amaluski@montchaninbuilders.net, or call 302-472-7213 to speak with a representative from Montchanin Builders about a free custom home consultation.