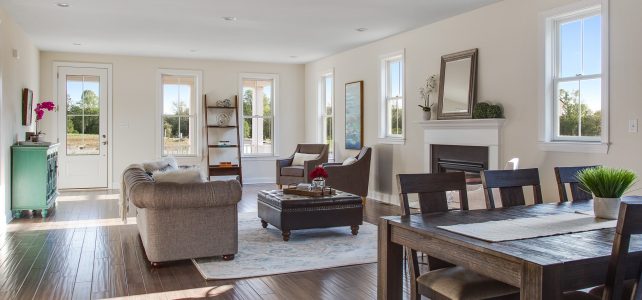 How Do I Choose the Right Floor Plan for My New Luxury Home?
Choosing your dream home in the Wilmington area can be one of the most exciting times in your life! The floor plan you choose for your new house can have a significant impact on your lifestyle, offering you a comfortable arrival at the end of the day while making your everyday activities more enjoyable.
Choose your size
Homeowners can have vastly different needs in regard to the space requirements of their new home. An individual or a couple may feel intimidated by a large home, while squeezing a large family into an undersized home creates a cramped and problematic living situation. Lifestyle choices can factor in as well, as active family members with interests such as art and outdoor sports will likely require more space for their activities.
For these reasons, choosing the ideal floor plan for your home starts with understanding how the size of your home will suit your individual needs and lifestyle. Assess how many rooms you will need for yourself, your partner, children and any family activities, as well as the appropriate number of bathrooms to accommodate family members and visiting guests.
Consider your design taste
Every prospective homeowner has unique design sensibilities, but in general those who prefer their living spaces to be more separate and defined will lean towards a traditional floor plan, while those who prefer a living environment that flows from space to space might want to consider an open floor plan.
Decide as early as possible in the process what your foremost priorities are and what you can adjust to living with or without.
For example, larger windows will beautify your home with ample natural light, but typically result in higher heating and cooling bills than in homes with more standard windows. A spacious floor plan with minimal divisions can create a unified and cohesive aesthetic, but can reduce privacy in some areas or make it more difficult to separate entertaining spaces from a home office or other quiet rooms.
Consult with a professional
Most prospective homeowners have a range of ideas about what they want from their future home, but a real estate or design professional can offer experienced insights on factors that may not be immediately apparent. They can provide direction concerning how your design choices will affect energy costs, information on local resources, and insights on proper maintenance for your chosen amenities.
Go with what feels right
While it is true that industry professionals can help guide you to options that are usually a good fit for prospective homeowners like you, at the end of the day, you are the one who will be living in the space you choose.
The perfect space for your life to unfold should feel comfortable and inviting, and you should always take your instincts into consideration when touring different floor plans to find the one that's right for you. Contact Montchanin Builders today to start finding your way home.
Your dream home could be in the beautiful Wilmington area! Contact Montchanin Builders to learn more about our luxury townhomes in Wilmington DE, and discover a floor plan perfect for your needs.
Additional resources:
Freshome.com, 10 Effective Ways To Choose The Right Floor Plan For Your Home, https://freshome.com/moving/10-effective-ways-to-choose-the-right-floor-plan-for-your-home/
NewHomeSource.com, Choosing the Right Floor Plan for Your Family, https://www.newhomesource.com/guide/articles/choosing-the-right-floor-plan-for-your-family