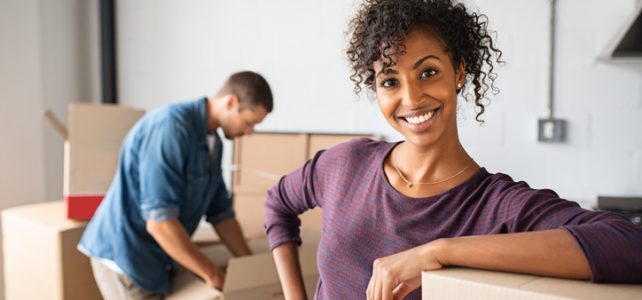 Moving In? 5 Steps to Help You Feel Quickly at Home
Buying a new house can be tremendously exciting, but on your first day in the new place, the bare walls, empty spaces, and monotonous stacks of boxes can make it feel impersonal and daunting – not like "home" at all! Before you start questioning your decision to move, remember that there are many things you can do immediately to make your new home feel a little more like yours.
Follow these five simple moving steps to make your new house feel like home:
#1 – Do a deep scrub
Empty home? Now's the perfect time to make sure everything from the ceiling corners to the floorboards are sparkling clean. Some older homes will probably require a good deep cleaning, but even for new builds, dust from construction work and walk-throughs can collect along floor edges, ceiling fans, and countertops. Plus, giving things a good thorough scrub will help make the place feel fresh and new (or newer).
#2 – Organize your moving boxes
Unpacking can be fun. You get to slowly see your style take over the blank walls, floors, and shelf space. It can also be overwhelming if not organized properly. Keeping your boxes labeled and ensuring they're moved to the right room the first time around will prevent the task from feeling monumental and will let you quickly unpack the necessities and the home favorites you'll need from the very first night in your new place.
#3 – Transform one room at a time
In addition to organizing your boxes, you may also want to consider which rooms you want to unpack and set-up first. Focusing your energy on one area of the house, then moving to the next gives you a completed space you can retreat to when it's time to take a break from the cardboard boxes. For some, this might mean ensuring the bedroom is put together for a good night's rest. Others might prefer getting the kitchen unpacked and in order so it won't be back-to-back pizza nights. Even simply hooking up your TV in front of a few comfy chairs can allow you the comfort of a familiar nightly ritual.
#4 – Make Small Touches
Sure, hanging a door wreath may not seem like the most logical first step in getting your new house together, but it is a quick, easy win and will almost instantly make your space feel more welcoming and homey. It may be prioritizing a few family photos, getting your favorite piece of artwork hung, or displaying your prized book collection.
#5 – Paint
A clean coat of paint can bring color and personality to your home. It's also a good way to cover up scratches, marks, or nail holes left behind by the previous owners when moving into an older home. For move-in ready homes in Delaware that are already painted with neutral colors, painting just a simple accent wall or going bold in one room can be enough to incorporate your taste and style into the house.
New homes for sale in Delaware
Find your new dream home with a little help from Montchanin Builders! Our new-construction townhomes and condos in the exquisite walkable community of Darley Green allow you to choose your own floor plan and finishes, so you can personalize your space to make it instantly feel like home-sweet-home. Contact us today to learn more about our move-in ready homes in Delaware and to schedule a home tour!