New Homes in Wilmington Are For the Birds

Homes at Darley Green: minutes to Riverfront Wilmington
New homes in Wilmington and the nearby Claymont Renaissance District offer multiple enticements to new homeowners, not the least of which is the recently revitalized Wilmington Riverfront. On the banks of the Christina River, the redeveloped Riverfront offers a wide variety of attractions and activities year-round, but its most exciting season is summer. From canoe trips on the river to Blue Rocks baseball, and from the 17th century replica ship the Kalmar Nyckel to top-rated fine dining and nightlife, the Riverfront is a summer escape to suit everyone's tastes.
But one of the best pleasures of the waterfront is strolling along RiverWalk, the 1.3 mile-long path that gives pedestrians access to destinations from Tubman-Garrett Riverfront Park to the Shipyard Shops. Walkers and joggers can enjoy abundant plantings, including 5,000 trees and shrubs, 36,000 perennial and annual flowers, and 27,600 wetland plants.
New homes in Wilmington: for the birds
It's not only natural beauty on display as you stroll along RiverWalk. Reporter Martha Teichner of the CBS Sunday Morning TV program recently did a feature on the series of handmade, custom-built birdhomes currently on display along RiverWalk. The bird houses were crafted by local home builder Tom Burke, who deploys his craftsman's skills and artistic vision to create fanciful, fascinating, finely detailed replicas of historic or otherwise notable houses for area birds to feed.
More than a dozen of Burke's birdhouses can be viewed at RiverWalk, including a replica of Martha Stewart's home in Bedford, NY, complete with exterior painted in her own signature "Bedford gray." For the golf enthusiasts, there's the birdhouse version of the Augusta National Clubhouse. The centerpiece might be a replica of the farmhouse from Andrew Wyeth's iconic painting, "Christina's World." It is just one of eight Wyeth-inspired Burke birdhomes. Burke uses the basement in his Wilmington condo building as a workshop, in exchange for doing his neighbors' recycling. One of his custom-made birdhouses can take months to build, and commissions (such as one from 'Star Wars' creator George Lucas) can cost as much as $20,000.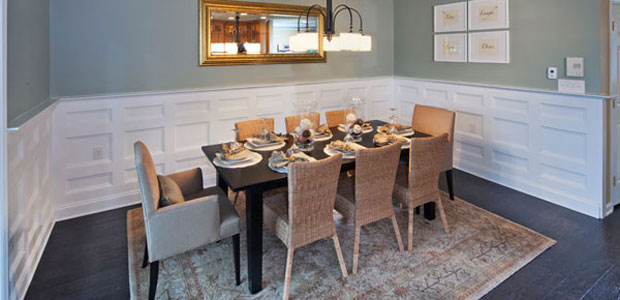 Claymont & Wilmington condos and townhouses: affordable luxury
The new move-in ready townhouses and condominiums at Darley Green are ideally located only minutes from downtown Wilmington, while also offering the peaceful relaxation and neighborhood charm of old-fashioned small town life. Darley Green's master-planned community features tree-lined streets and jogging paths, on-site shops and businesses, open green spaces and communal gathering places, as well as a state-of-the-art library. Restaurants and the commuter rail station (only a 20-minute trip to Philadelphia) are within walking distance, with shopping malls, movie theaters, and nightlife hubs all within close driving proximity.
Though prices start in the market-busting low $200s, standard luxury features include 2,500 square feet of living space, gourmet kitchen, 1-2 car garages, and year-round maintenance-free living. There are other huge advantages to living in Delaware, including notoriously low property taxes, and no sales tax whatsoever. And if you prefer a summer stroll along a larger body of water than the Christina River, Delaware's award-winning beaches (including Rehoboth Beach) are less than 2 hours away by car.
If you are an aspiring homeowner who has yet to find a great deal on Wilmington condos or townhouses, give Darley Green's new homes in the Wilmington area a try. Visit our model homes any day from 11AM-6PM. And to learn more about Darley Green, or to ask questions about special financing offers, call Community Sales Manager Amy Maluski at 302.655.2600.