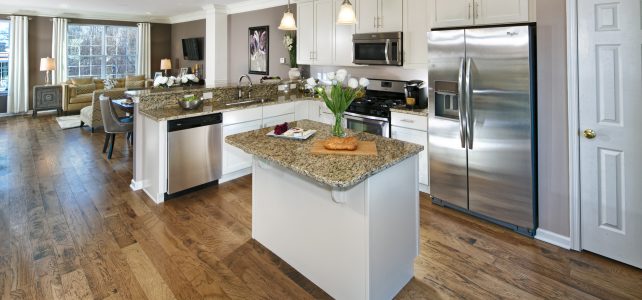 Why Homebuyers Are in Love With Open Floorplans
An open floorplan joins together the living room, dining area, and kitchen into one large, open space, effectively creating a clear visual field throughout much of the main floor. Open floorplans became very popular during the 1990s and have been an enduring trend ever since. They mark a significant departure from older homes, which typically feature separated rooms branching off a main hallway, with the kitchen closed off toward the back of the home.
The shift toward an open floorplan is representative of the shift in socializing trends; today, guests are encouraged to mingle in the kitchen as the host puts the finishing touches on the meal.
There are numerous advantages to the open floorplan, which is why Montchanin Builders embraces this design technique in our exquisite, spacious townhomes and condos in Darley Green.
Open floorplans allow for better flow of traffic
One of the main reasons why homebuyers love open floorplans is that they allow for superior traffic flow. With fewer hallways to navigate, doors to open, or walls blocking space, it's less likely that people will bump into each other. This is particularly advantageous when homeowners are hosting get-togethers.
In an open floorplan home, all of the guests can freely mingle without having to be crammed into one smaller room together.
They offer superior flexibility regarding the layout of the home
Homes that follow the traditional, pre-war floorplan that divides various areas into separate rooms can be challenging to furnish. There is little flexibility regarding the layout of the furniture. With an open concept floorplan, homeowners can more easily arrange the furniture to their liking. Furthermore, there are more configuration possibilities.
If the homeowners grow tired of the first layout or wish to purchase new furniture, it's easier to adapt to a new layout without the interference of partitioning walls.
Homes with open floorplans tend to offer better real estate value
Many homeowners make house purchasing decisions with an eye toward a future sale. It's typically preferable to purchase a home that can be reliably expected to increase in value over time. Another reason why home buyers are in love with the open concept floorplan is that it holds its real estate value over time. In fact, homes with an open floorplan are typically valued higher than those with the traditional layout.
Explore move-in ready homes in Delaware
If you're in love with the open floorplan concept, you'll be thrilled with the townhomes and condos of Darley Green, a master-planned community characterized by open green spaces, neighborhood gathering areas, and plenty of nearby amenities. Our new construction homes in New Castle County, Delaware, offer plenty of square footage coupled with thoughtful, customizable open floorplans.
Call Montchanin Builders today to schedule a tour and inquire about our special financing offers.