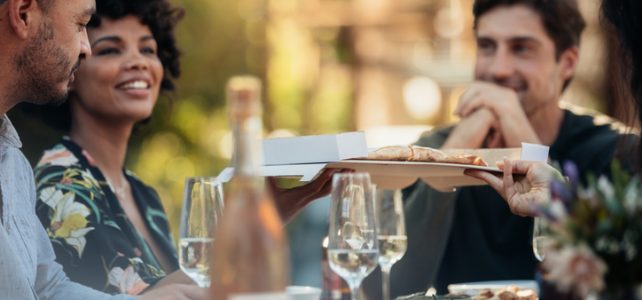 4 Amazing Kennett Square Restaurants With Outdoor Seating
Known for its rich history and beautiful scenery, Kennett Square, Pennsylvania, is also a widely renowned destination spot because of its vibrant and creative dining scene. Not only is the food exceptional, but many of Kennett Square's top eateries feature lovely outdoor seating areas, perfect for taking advantage of the warm weather.
Having so many great food options to choose from is just one of many reasons to consider moving to Kennett Pointe—a master-planned community nestled in the heart of Kennett Square.
Be sure to check out the following blend of casual and fine dining establishments, all of which offer outdoor seating arrangements.
(302) 472-7212

Call Today for Details about our Kennett Pointe Community

Floga Bistro
Floga Bistro is a laid-back eatery located at 826 East Baltimore Pike. A limited amount of outdoor seating is available, and they also book private parties. Enjoy their selection of Italian and Mediterranean dishes, with some vegetarian options. Their hearth-baked gourmet pizzas are particularly popular, especially the chicken Florentine, carne di floga, and rustica pies. This restaurant is also known for an excellent assortment of Italian seafood and red meat dishes. If you're at the Floga Bistro for breakfast, try their avocado eggs benedict, breakfast pizza, or short stack.
Verbena BYOB
You'll find this American restaurant at 102 East State Street. Verbena BYOB offers a one-of-a-kind fine dining experience, with outside dining available when weather permits. Order from the tasting menu, which features unique dishes such as the following:
Braised Keiser's pheasantry duck leg with apple, sofrito, and pistachio
Slow-roasted kurobuta pork loin with kabocha squash, bok choi, and BBQ flavors
Wild Gulf Coast prawns with toasted walnuts, pickled watermelon rind, and candied orange
For dessert, the tasting menu offers roasted pineapple and golden raisins with brown sugar, pistachios, and almond Chantilly.
(302) 472-7212

Call to Inquire about Kennett Pointe Town Homes

La Verona Italian Restaurant
La Verona is Kennett Square's premier Italian restaurant, ideal for those seeking a fine dining experience in an upscale establishment. La Verona is open for lunch and dinner, and they also offer a happy hour menu. As an appetizer, try one of their popular signature dishes such as:
Portobello caprese
Roasted artichokes
Shrimp and avocado salad
Blackened salmon
Sausage and broccoli rabe pasta
Gluten-free and whole wheat pasta options are available upon request, and the restaurant also offers a wine list and cocktails. Not only do they provide outdoor seating, but a private room is also available to reserve for private parties.
Philter
If you're in the mood for a cup of gourmet coffee and a delectable pastry, head over to Philter at 111 West State Street in Kennett Square. Philter is owned and operated by Chris and Heather Thompson.
The restaurant emphasizes freshly made, high-quality food, with breakfast, lunch, and baked goods available.
Philter's coffee is sourced from Ceremony Coffee Roasters, and seasonal specialty coffees are available, along with a tea menu.
Explore the new home community in Chester County, PA
Close proximity to so many fantastic restaurants is just one of the great things to look forward to when you move to Kennett Square, Pennsylvania. Now, you can find amazing deals on new townhomes near Kennett Square built by Montchanin Builders. Our master planned community, Kennett Pointe, boasts luxury townhomes and spacious, loft-style apartments in a cozy, close-knit neighborhood. Plus, our new home community in Chester County, PA features a thoughtful mix of shops and businesses for your convenience. Call us today to learn more!