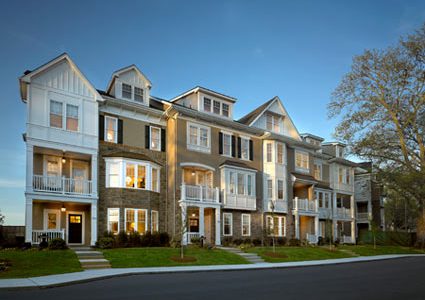 Buying a Townhouse Checklist: 4 Top To-Dos
So you've decided to purchase a new townhouse. It's a smart decision to build equity in your own property, rather than pay rent to a landlord. Plus, townhouses are typically located in beautiful, family-friendly neighborhoods, such as The Overlook at Rockford Falls near Wilmington, Delaware. When you've saved up for a down payment and you're ready to take on the responsibilities of homeownership, you can use the following checklist for buying a townhouse.
1. Get pre-approved for a home loan
It's helpful to get pre-approved before you get down to the business of house hunting. During the pre-approval process, the lender examines your proof of income, credit history and score, and other financial documents. Based on that information, the lender will tell you how much of a house you will be able to purchase. You'll get a pre-approval letter, which states that your mortgage application will be approved pending the submission of certain documents. With this letter in hand, you'll be able to view houses with confidence.
2. Schedule a viewing
The viewing of a house for sale is easily the most exciting part of the process. Come prepared with a small notebook and camera or your smartphone. You'll want to take notes and pictures. If you tour multiple houses, you can compare your notes and pictures later on to help you make your final decision.
3. Take a tour of the community
It's all about location, location, location. After you've checked out every inch of the townhouse you've fallen in love with, take a walking tour of the neighborhood. Explore the community, check out the nearby nature trails, and meet the neighbors if they're out and about. After your walk, you can hop back in your car to check out the nearby amenities. Some of the local attractions you might want to look at include schools, parks, museums, restaurants, recreational centers and fields, and stores.
4. Purchase your new home!
The last step on our buying a townhouse checklist is to schedule your purchase agreement appointment for your new home! While it's important to make sure that you truly want that particular townhouse, you don't want to wait too long to schedule a follow up appointment. If it's a desirable property, there could be lots of other house shoppers looking at it. Once you've purchased your new home, you can start counting down until your selections appointment and closing day, when that beautiful new townhouse will be all yours!
Must-see townhomes in Wilmington, Delaware
When you're ready to become the proud owner of a new townhouse, you're invited to schedule a viewing at Darley Green or The Overlook at Rockford Falls—Montchanin Builders communities. These luxury townhomes in Wilmington DE have everything that modern homebuyers need, from plenty of storage space and flex rooms to gourmet kitchens and even an optional elevator! The Ovelook at Rockford Falls community is fabulously walkable, with homes that overlook Brandywine Creek and border state park land.
Call Montchanin Builders today to schedule a viewing. Ask us about our special financing options. Our recommended lending specialist, Supreme Lending, can get you pre-approved quickly so you can focus on shopping for your dream home in Delaware!
Additional resources for home buyers:
Discover, 10 Steps to Buying a Home, https://www.discover.com/home-loans/articles/10-steps-to-buying-a-home
Consumer Financial Protection Bureau, Buying a House, https://www.consumerfinance.gov/owning-a-home/