Darley Green: New Townhomes & Condos For Sale in Delaware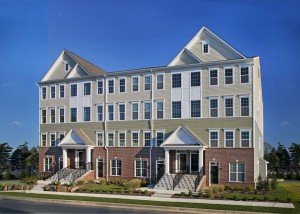 Considered the centerpiece of Delaware's historic Claymont Renaissance District, the delightful 67 acre planned community of affordable yet luxurious townhouses and condominiums called Darley Green is the work of Montchanin Builders, one of the finest new-home builders in the Mid Atlantic region.
The Montchanin team has brought together lifestyle experts, landscape planners and architects and have successfully blended the serenity and comfort of a small town with all the modern conveniences needed to meet today's busy lifestyles.
The master planned community of Darley Green includes wide tree-lined streets, a town square complete with cute little shops and restaurants, as well as a village green where neighbors and friends can gather in the evening to talk over the day's happenings.
(302) 472-7212

Call to Inquire about Darley Green Town Homes

Wonderful walking and jogging trails weave in and around the Darley Green property, and there's even a new state of the art library. New home builders in Delaware, Montchanin Builders, made sure that families could have the best of all worlds as home owners.
Condos for sale in Delaware are a great choice for any age
Designed to provide high style and livability with affordable pricing and convenience, Darley Green's condos for sale in Delaware have attracted a broad mix of smart buyers of all ages—singles, young families with children, and retirees—who are taking advantage of Delaware's reputation as one of the most tax friendly states in the Union—no sales tax, no estate tax, and a very low income tax rate.
They're also taking advantage of one of the best features of Darley Green—its fabulous central location. When you live at Darley Green, you are 5 minutes from I-95, 2 minutes from I-495, and just 20 minutes from the Philadelphia International Airport. Baltimore is a one hour drive and New York City is only two hours away.
This prime location provides easy access to the nightlife, shopping, restaurants, and culture of Wilmington (5 minutes) and Philadelphia (20 minutes). If you prefer public transport, Darley Green is a short walk to the Claymont commuter train, and the DART bus stops on the grounds.
New Delaware townhomes offer affordable luxury
Darley Green's below market home prices start in the $200's with plenty of customization options available to make these new Delaware townhomes just what their owners want. The roomy layouts—choose the plan that works best for you and your needs– can get up to 2500 square feet with three bedrooms and two full baths plus a powder room (you can add another bedroom and bath if you prefer), gourmet kitchens, roomy walk-in closets and energy efficient gas heating. You can also choose a one or two car garage.
(302) 472-7212

Call Today for Details about our Darley Green Community

Maintenance-free living is easy living at Darley Green
Who wouldn't want to put all their home maintenance chores aside? At Darley Green, the residents live a virtually maintenance free existence. In autumn, you can really enjoy how beautiful the leaves look because you know you don't have to rake them—Darley Green's maintenance crews will do that for you. In the winter, let it snow, let it snow, let it snow! The Darley Green crew will do all the shoveling while you make snow angels with your family.
Take advantage of our move-in ready condos and townhomes!
Montchanin Builders is a full service residential construction and construction management company headquartered in Wilmington, Delaware with more than 60 years of combined experience.
As featured in local media as well as national segments of HGTV, Darley Green is one of the most important new construction developments in Delaware, and Montchanin brings the highest level of quality construction and craftsmanship to the project. If you are looking for affordable luxury in a delightful community with a small town feel, why not take a look at the new Delaware townhomes at Darley Green?
Email amaluski@montchaninbuilders.net or call 302-472-7213 to speak with a representative from Montchanin Builders to set up your tour of Darley Green.