Montchanin Builders Provide Quality Home Renovations in Delaware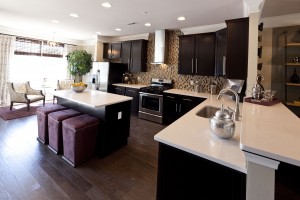 Renovating your home can boost the value and overall enjoyment of your home for many years to come. While some Delaware homeowners may choose to renovate in order to sell their property quickly, others simply want to maximize their investment by updating living areas or adding space for that ever-growing family.
Whatever your motivations for a home renovation in Delaware, Montchanin Builders can help you through every step of the process. As one of the most trusted and respected Wilmington-based home builders, our team offers expert design and construction services for everything from kitchen and basement remodels to the addition of a brand new deck.
Cost-effective home renovations in Delaware
There's no doubt that a newly-revamped kitchen or master suite can completely transform the look and feel of your home –giving a fresh and updated appeal that incorporates your dream finishes and favorite design elements. Added space with custom cabinets, a tasteful backsplash, gorgeous farmhouse sink and other custom details can elevate an ordinary kitchen to be the focal point of your home.
At Montchanin, our seasoned professionals are fully committed to customer satisfaction and helping clients realize that home renovations are not only a smart investment,  but can be an enjoyable process when handled by an experienced team.
We are renowned not only for our superb craftsmanship and attention to detail, but also for delivering a project both on time and within your budget.  While the economy is improving, we understand that budgetary constraints force many homeowners to consider the DIY approach. Before you bite off more than you can handle, give us call for a free estimate on any home renovation project.
We hope you discover first-hand why our talents have been showcased on HGTV, bolstering our reputation as one of Delaware's premier home renovation experts. From simple remodel projects to full-scale home additions, our team promises first-rate work at truly reasonable prices.
Customer service, personal attention and excellent craftsmanship
Ask for references of past satisfied clients, and we'll be happy to oblige. Delaware boasts a slew of professional home remodeling contractors, but we're eager to show you how Montchanin sets the bar in this highly competitive field.
Experienced in garage renovations, sun room and bedroom additions, bath, garage and kitchen remodels, Montchanin Builders strives to exceed your expectations, ensuring you receive the highest quality service.
Reap the rewards of a home renovation project, which include:
Increased home value
Extra comfort
Additional space for storage
A room that personifies your tastes and style
Reduced utility costs when using energy efficient materials
Décor that shows off the latest trends
More functional space
A reduction in future maintenance costs
Extra space for entertaining
More curb appeal
Montchanin Builders – serving DE and Pennsylvania homeowners
From the initial design phase to completion, Montchanin home renovators will assist you with all your remodeling and home addition needs. One of our overriding missions is to help clients in the greater Delaware and Pennsylvania areas realize their home improvement goals without going over budget.
Partner with a Delaware custom home builder that is known for honesty and integrity. To learn more about our home renovation services, please call 302-472-7213 or send an e-mail to info@montchaninbuilders.net.