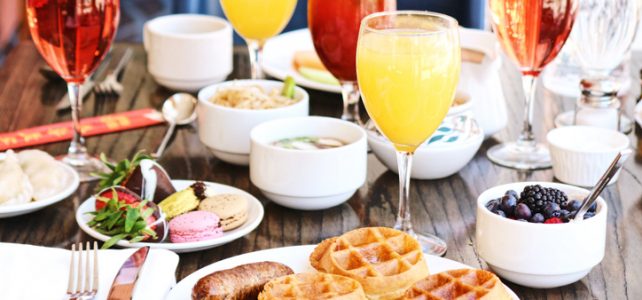 What Are Some Highly Rated Breakfast/Brunch Spots in Kennett Square, PA?
Kennett Square, PA, has no shortage of fantastic brunch spots, including:
The Market at Liberty Place
Evergreen Café, Bakery, and Juicery
The Gables at Chadds Ford
The Stone Barn
Grain Craft Bar + Kitchen
What's better than a leisurely weekend brunch, where you can mix and match your favorite breakfast and lunch foods, relax with family and friends, and possibly enjoy an early afternoon cocktail or two? Learn more below about some of the best brunch restaurants in Kennett Square, Pennsylvania, a historic town that hosts our loft apartments and luxury town homes at Kennett Pointe, and is also known for its quaint charm and vibrant dining scene.
The Market at Liberty Place
If you've ever experienced Faneuil Hall in Boston, you'll feel right at home in The Market at Liberty Place. Located at 148 West State St. in Kennett Square, The Market is a friendly gathering of local vendors positioned along the exterior walls, with a central dining area in the middle. It's the perfect place to pick up a delicious breakfast to go or dine in before heading off for some shopping or other excursions. On Saturdays and Sundays, The Market serves up a scrumptious brunch with cocktails courtesy of Liberty Place Pub.
(302) 472-7212

Call to Inquire about Kennett Pointe Town Homes

Evergreen Café, Bakery, and Juicery
You'll find the Evergreen Café, Bakery, and Juicery at 216 South Mill Road in Kennett Square. True to its name, the restaurant offers:
A range of healthy, fresh juices
Must-try smoothies
And baked goods
It's open early for breakfast on Wednesdays through Sundays. Choose from their famous breakfast sandwiches, burritos, and breakfast salad. Their pancakes, waffles, and French toast are also a hit with locals and visitors.
If you're at the restaurant for brunch, you can also choose from an array of delicious lunch items like panini with grilled chicken, apples, and chipotle aioli. One of their specialty items is the acai bowl, which features acai berries blended with avocado, coconut milk, and bananas, and topped with granola and fresh berries.
The Gables at Chadds Ford
If you're looking to impress your loved ones with brunch at an upscale establishment, look no further than The Gables at Chadds Ford. This beautiful restaurant has won numerous awards from The Knot, Wedding Wire, and others, and their brunch is to die for. Choose a charcuterie board to share (the fig and prosciutto is popular, as is the Kennett Square Mushroom platter) or start with the mushroom soup, sesame seared tuna ahi, or roasted artichokes. Salads and elegant sandwiches are also available, as is traditional brunch fare like classic eggs benedict and Belgian waffles.
(302) 472-7212

Call Today for Details about our Kennett Pointe Community

Check out new townhomes for sale in Kennett Square, PA
World-class dining experiences are just one compelling reason to move to Kennett Square, Pennsylvania. Montchanin Builders proudly offers new-construction townhomes for sale near Kennett Square that are close to plenty of delectable dining spots, historical attractions, outdoor recreation, and cultural attractions. For these reasons, Montchanin Builders selected Kennett Square as the location for our newest master-planned community— Kennett Pointe, a beautiful, walkable community populated with exquisitely designed homes. Schedule an appointment to learn more about our townhomes for sale in Kennett Square by calling today!