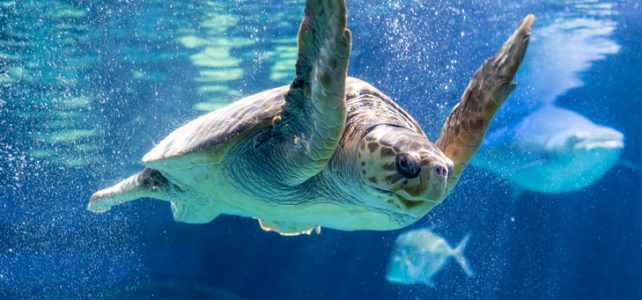 Best Zoos and Aquariums in Wilmington, DE
Wilmington, Delaware is a pet-friendly town, with numerous nature trails and other activity sites that welcome well-behaved, leashed pets. If you're looking for a little animal-related excitement that extends beyond dogs and cats, you won't have to travel far. Wilmington is home to the much-beloved Brandywine Zoo, and the Adventure Aquarium and Philadelphia Zoo are both just a short drive away.
Brandywine Zoo
The Brandywine Zoo is the pride of Wilmington, and a perfect destination for a lazy Sunday afternoon. When America was still quite young, the land on which the zoo now resides housed a public amphitheater where Delaware residents could go to hear speeches from the likes of Henry Clay, Daniel Webster, and John C. Calhoun. Now, as you wander through the site, you can enjoy the sounds of animals both exotic and domestic as they go about their lives.
At the Brandywine Zoo, you'll find creatures large and small from zones both tropical and temperate throughout Asia, Africa, and North and South America. The zoo staff prides itself on creating natural-looking, spacious habitats that support the animals' mental and physical well-being. You'll see primates like crowned lemurs and the endangered golden lion tamarin, as well as red pandas, an adorable capybara named Candace, servals, and bobcats.
The zoo is also home to a number of impressive birds (Andean condors and bald eagles to name just a couple), reptiles, and invertebrates.
Before you head over to the Brandywine Zoo in Wilmington, check their calendar of special events on their website. You can also hover over the "Learn" pull-down menu, navigate to "Public & Family Programs," and check out their current workshops and lecture series.
Adventure Aquarium
Adventure Aquarium is located in Camden, NJ, along the Delaware River. It's just minutes from Philly, which is only about a half-hour drive from Wilmington. Adventure Aquarium is known for incredibly engaging and educational exhibits that are a delight for all ages. Enjoy seeing more than 15,000 aquatic animals, including sea turtles, penguins, and even hippos! It's the only aquarium in the world to boast hippos among its residents.
They also have the largest collection of sharks you'll find anywhere in the northeast. In the Shark Realm, you can stroll over the tanks along the Shark Bridge or view these magnificent creatures from below via the Shark Tunnel.
Philadelphia Zoo
In 1874, the Philadelphia Zoo became the first zoo to open its gates in America. It's expanded and improved its operations considerably since its founding, and today, you can enjoy the remarkable sights and sounds of more than 1,700 rare and endangered species. Some of the most popular exhibits are the African Plains (giraffes, zebras, and a Southern white rhinoceros), Big Cat Falls (tigers, lions, pumas, and even snow leopards), and Penguin Point (Humboldt penguins).
Check out townhomes for sale in Wilmington, Delaware
There's always something to do in Wilmington, and even more opportunities abound a short drive away from home. If you like the thought of living in America's hidden gem, check out townhomes for sale in Wilmington, Delaware at the gorgeous master-planned community of Darley Green, built by the master craftsmen at Montchanin Builders. We're also proud to present our luxury town houses in Greenville, DE (a thriving yet cozy suburb of Wilmington), The Townes at Barley Mill. Enjoy tree-lined streets, beautiful green spaces, and incredible amenities just steps from your door. Contact Montchanin Builders today to schedule a viewing and inquire about our special financing arrangements.