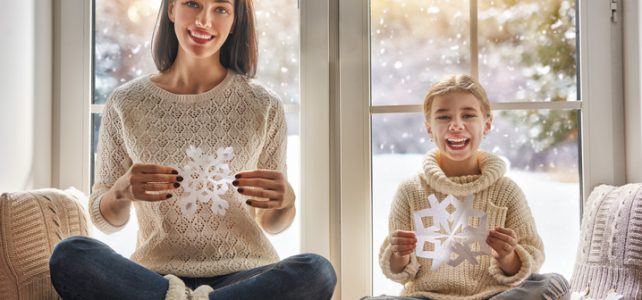 Cozy Home Decorating Ideas for Winter
The Delaware countryside is breathtaking in the winter, especially right after new snow has fallen on the trees. In the Wilmington area, there's no shortage of outdoor activities for families to enjoy during the winter. Whether you prefer hitting the slopes, heading to the ice rink, or just enjoying a mug of hot cocoa in one of Wilmington's coffee shops, you'll want to come home to a beautifully decorated winter wonderland. This year, ditch the plastic lawn reindeer and instead try these chic and cozy home decorating ideas.
Evergreen garlands
Check your local gardening store for fresh evergreen garlands. Cedar, boxwood, and holly are all good choices. Drape the beautiful greenery across the mantel of your fireplace, along the top of tall furniture, and over the entryway door frame. Add an evergreen wreath to the outside of your door. You could even use an evergreen centerpiece for your dining room table.
A touch of plaid
Plaid embodies the essence of coziness during the wintertime. Drape a plaid throw blanket over the back or arm of the sofa. Add plaid bowties to the tree. One eye-catching approach is to take three to four small plaid throws and use them as a layered tablecloth. Lay the largest throw across the table, as you would an actual tablecloth. Drape the others in an asymmetrical fashion, so that one corner of a throw reaches down toward the floor and the other stretches toward the center of the table. In the bedrooms, top the mattresses with plaid blankets.
Pine cones
Some kids love to collect bits of nature and bring them home. If you have kids with a pine cone collection, you can put it to work in your wintertime decorations. Try to find pine cones of varying sizes—from large and sturdy to diminutive. Rinse them in running water and let them air dry completely. Then, you can leave them au naturel or spray paint them with a clear coat. Doing this will seal in the sticky sap and prevent it from getting on your furniture or upholstery. Consider spray painting a few pine cones in seasonal colors, like bright silver or gold. Use the pine cones to create centerpieces for the coffee table or to scatter among your garlands.
Scents
Professional decorators try to engage multiple senses by incorporating textures, colors, and scents into the overall design scheme. If you do use fresh garlands, they will introduce a pleasant pine scent to your home. But you can also add some potpourri bowls to your home. Choose potpourri with scents like cinnamon or pine needles.
Homes for sale in North Wilmington, DE
For North Wilmington Delaware homes for sale, schedule a viewing of the architecturally exquisite, move-in ready homes by Montchanin Builders—a local builder renowned for fine craftsmanship and neighborly communities. Montchanin Builders invites you to tour our close-knit communities of Darley Green, Shipley's Circle, The Overlook at Rockford Falls, or The Town of Whitehall. When you do, be sure to ask us about how you can qualify for $15,000 toward your purchase of a custom, move-in ready home. Call 302-472-7212 today!
Additional resources for homeowners
House Beautiful, 10 Cozy Decorating Ideas That Make Winter Suck A Little Less, https://www.housebeautiful.com/lifestyle/g23082766/winter-decorations-ideas/
Country Living, 25 Cozy Winter Decorating Ideas to Brighten Up the Dreariest Winter Days, https://www.countryliving.com/home-design/g2921/winter-decorating-ideas/