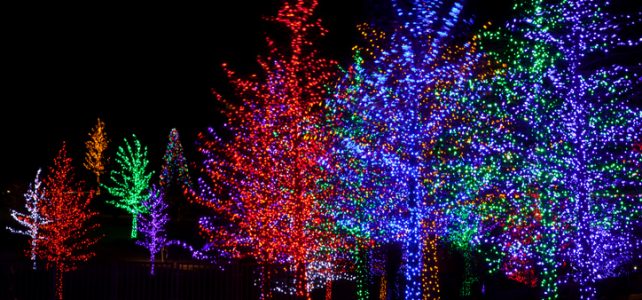 Explore the Festive Magic of Longwood Gardens In the 2021 Holiday Season
If you've never visited Longwood Gardens during the wintertime, you're in for a treat. Starting November 19 and lasting through January 9, Kennett Square's famous botanical garden is transformed into a celebration of the holiday season. "A Longwood Christmas" is a marvelous annual event that anyone is sure to enjoy. The gardens are open every day from 10 a.m. to 11 p.m., so you can spend a brisk morning, a leisurely afternoon, or a cozy evening exploring this magical place. Here are some of the sights you can expect to see this year:
Christmas Trees
As you might expect from a world-famous botanical garden, Longwood doesn't hold back when it comes to Christmas tree displays. You'll find magnificent trees everywhere you turn at "A Longwood Christmas", from the 21-foot Fraser Fir in the Exhibition Hall to the 18-foot Gardener's Tree outside the Peirce du-Pont House. You also shouldn't miss the 12-foot children's Christmas trees in the Ballroom, decked with charming fire and ice-inspired decorations provided by local schools.
Outdoor Lights
Christmas isn't complete without plenty of colorful light displays, and Longwood Gardens has more than enough to dazzle any visitor's eye. Beginning at noon every day during the holiday season, the gardens will be brightened by more than half a million individual lights! If you've ever wondered just how vast and beautiful a light display can get, you'll get your answer at "A Longwood Christmas."
Light Shows
Who doesn't love a colorful light show? As you stroll past the Open Air Theatre fountains, make sure to pause to watch the 5-minute light shows that run regularly throughout the day during the Christmas season. You also shouldn't miss the Main Fountain Garden Light Display, which features choreographed light shows set to the tune of favorite holiday tunes every day starting at 4 p.m.
Garden Railway
If there's one thing that is sure to delight kids and adults alike, it's a model train. Whenever the gardens are open during "A Longwood Christmas," you can see miniature trains chug their merry way past illuminated miniature sets on nearly 500 feet of track. Longwood Gardens is home to dozens of miniature trains, including the world-famous Thomas the Tank Engine! These displays are painstakingly crafted every year by the gardens' staff.
Fire Pits
Bundling up and keeping warm is essential for enjoying the cold season. Even so, there are times when even the warmest jacket doesn't provide quite enough protection against outdoor chill. To help you stay cozy during your visit to the gardens, "A Longwood Christmas" offers fire pits for visitors to gather around and warm themselves. Weather permitting, the fire pits will be in use every day starting at noon.
Luxury town houses in Greenville, DE and Kennett Square, PA
If you're in the market for a new home, you might want to look into our luxury townhomes in Kennett Square, PA, and Greenville, DE, only minutes from Longwood Gardens and other nearby attractions. With the sheer variety of shops, sights, and activities in the area, you'll never run out of things to do. Montchanin Builders is dedicated to creating well-designed communities such as Kennett Pointe and The Townes at Barley Mill that offer everything a new homeowner could want. If you're intrigued by our move-in-ready townhomes, contact us today to schedule a viewing.