Spread Holiday Cheer with These Decorating Tips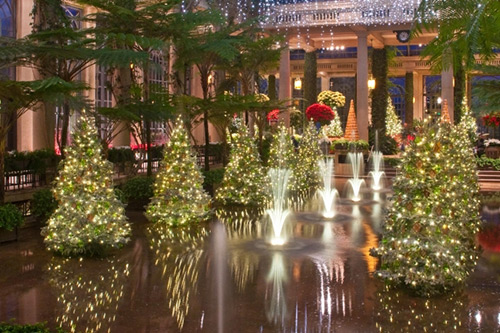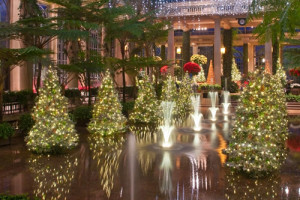 There is something magical about the holiday season that inspires so many of us to find our inner Clark T. Griswold and spread the holiday cheer – and decorations – outdoors.
House Beautiful recently scoured the internet for trending outdoor holiday decor to compile a top 25 list. If painstakingly installing 250,000 imported Italian twinkle lights to the roof is not your style, maybe these modern twists on Christmas classics will inspire.
Hanging of the greens
For a fresh holiday outdoor look that complements many styles of homes, try mixing bright, clear lights with classic greenery. Instead of displaying a single wreath, make a statement by adorning your front door or window with a double wreath, aligning one above the other. Mini evergreen displays and over-sized pine cones make eye catching features out of what would otherwise be natural outdoor elements.
For a more intentional greenery look, try placing a decorated Christmas tree on the porch. A garland arch with white lights and red bows turn a front door into a grand holiday entrance. Hanging baskets can bring evergreen displays up to eye level.
Whimsical holiday touches
Whimsical touches can remain tasteful while adding some cheery fun to classic decor and over sized decorations definitely fit the bill. Now that florals are out of season, try filling the window boxes with bright, large Christmas ornaments. Jumbo ornaments also add a fun touch to the yard. Giant lit ornaments also make great lanterns to light the walkways or driveway.
Snowflakes are also a current favorite winter touch. Giant snowflakes in the windows add sparkle without overwhelming the scene with color. Snowflake wreaths reinterpret the traditional door hanging in a fun way while keeping a more neutral palette.
Rustic touches add coziness
Rustic touches bring a coziness to even the most elegant adornment. Amid the greenery, consider adding pops of color with homey touches like flannel pillows on porch seating or prop a decorative sled against the house.
Introduce some wood accents with rustic signs conveying holiday messages. Burlap bows add an old-time charm. Giant stars made from reclaimed materials like yardsticks or twine add a down-home look to classic holiday symbols.
A sure way to share the holiday cheer with your neighbors is with a display of lights. Giant glowing balls are eye-catching features that can work into a variety of decors. Mason jars filled with white lights tastefully accent an exterior display. Over-sized lit ornaments can add pops of color to the landscape as well.
Holiday home decor in Wilmington
Holiday outdoor decorating is just one more way to foster neighborhood cheer. You can enjoy this and other benefits of living in a neighborly community if you buy or build a new home in a Montchanin Builder's community.
To learn more about our beautiful new homes in Delaware, please call 302.376.1100.