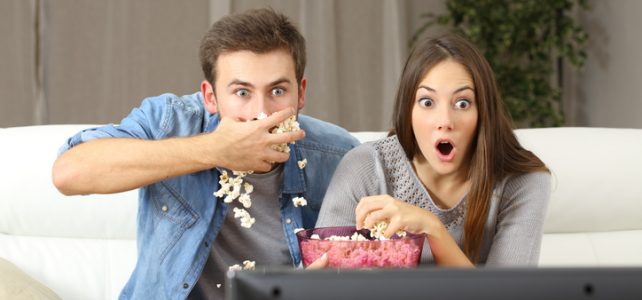 4 Real Estate Reality TV Show Myths Revealed
If you're in the market for a new home, you may be getting a lot of inspiration and ideas from the many reality TV shows about buying and fixing up real estate. These programs are undoubtedly a lot of fun to watch, but you may be left with more than a few unrealistic expectations about how the home buying process really works. Cut through the showbiz hype and set the record straight with these four real estate reality TV show myths explained.
While buying your perfect dream home may not be a 30-minute endeavor as portrayed on TV, Montchanin Builders makes the process as easy and drama-free as possible with a variety of innovative, spacious floor plans to choose from and industry-leading financing options. Call today to schedule a tour of our luxurious and affordable new construction homes in New Castle County, Delaware!
Myth #1: Buyers are touring real homes for sale on the market.
"The [homes] we looked at weren't even for sale," recalled former Hooked on Houses participant Bobi Jensen. "They were just our two friends' houses who were nice enough to madly clean for days in preparation for the cameras," she added.
Writer Elizabeth Newcamp has been on House Hunters twice. She explained, "The houses we toured for the show were not for sale. Our small city of Delft had very little housing turnover. As a result, we visited two properties that were listed for rent on Airbnb. They did, to be fair, reflect the types of homes and features you would find in Delft."
Myth #2: Buyers are still considering which house they'd like to buy.
Shows like Property Brothers aren't necessarily as interested in helping buyers find the home of their dreams as they are in getting juicy material for TV, which means choosing participants based on how screen-worthy their personalities are, and capturing personal dramas and conflicts that may be more staged than spontaneous. According to this Reddit thread from a prospective cast member, most of the clients on these reality TV shows have already selected a home before the program begins filming, and many of them are already living there.
In a statement, HGTV admitted: "We've learned that the pursuit of the perfect home involves big decisions that usually take place over a prolonged period of time – more time than we can capture in 30 minutes of television." With their TV series, they hope that audiences will "enjoy the vicarious and entertaining experience of choosing a home." They add that when "making a television show," they must manage certain production and time constraints – so, in essence, they can't really portray reality.
Myth #3: Buyers make a purchase after touring three homes.
When you need a new roof or caterer, you might interview three candidates to choose the best with due diligence. Fans of HGTV's House Hunters might be persuaded to think this general rule of thumb translates to home shopping. However, the reality, according to the National Association of Realtors, is that the average home buyer tours 10 properties in the search for "home sweet home."
Myth #4: An ugly duckling fixer-upper can be easily transformed into a dream home.
On shows like Flip or Flop, Masters of Flip, and Flipping Vegas, they make it look easy to renovate a nightmare home into a desirable abode. Professionals in the renovation business say it takes experienced contractors a week to do what house flippers accomplish in "a day." Often, the house flippers on the show under-value the cost or over-improve, veering from the initial estimates given for television. The reality is closer to over $100,000 spent and months of being without a home while the noisy, dirty work is done. Worse yet, the perceived profitability come resale time is really not there for the vast majority of these properties.
Looking for a New Home in Delaware?
We enjoy watching many of these shows and sometimes they do provide valuable insights into the homebuying process, as well as true inspiration for those who are seeking their dream home. Make your dream a reality by contacting Montchanin Builders to schedule a viewing of our beautiful, affordably-priced move-in ready homes in Delaware. Our gorgeous new construction homes are packed with desirable features in neighborhoods where you can thrive. Make sure to ask about financing options and special deals for first-time buyers!
Additional Resouces: