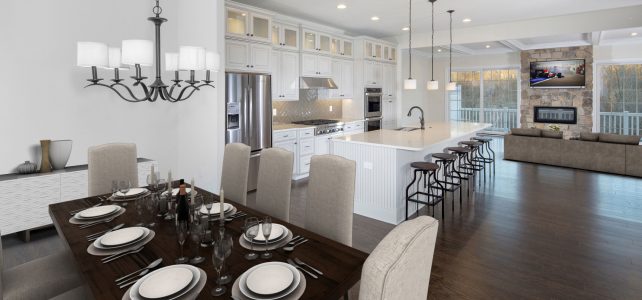 5 Easy Home Staging Tips
If you have outgrown your starter home, or you're just ready for an upgrade or a new location, you'll undoubtedly want to get the highest possible price when selling your home. It's always a good idea to do a thorough evaluation of your home and to perform any recommended repairs. Once your home is in tip-top shape, you can use the following home staging tips to make your house more appealing to buyers.
Know where to focus your efforts
It can be expensive and time-consuming to completely stage all of the rooms in your home. Fortunately, you don't have to. Put the most amount of effort into staging the living room, kitchen, and master bedroom, as these rooms are most important for buyers. If you have time to spare, go back and stage the other rooms afterward.
De-personalize the house
Every room in the house should be de-personalized as much as possible. In other words, the items you use for staging the house should be stylish or charming, but they shouldn't seem like personal items. This allows potential buyers to envision themselves in the space. Use the following tips for de-personalizing the space:
Take family photos off the wall, mantel, and shelves.
Remove pictures, magnets, and other items from the surface of the fridge.
Clear the bathroom counters of all personal items.
Remove artwork that doesn't have widespread appeal.
You should also remove as much clutter from your home as possible. Consider renting a portable storage unit and stowing your belongings in there until the home is sold. This is a better solution than simply storing belongings out of sight, as buyers will be opening closets and cupboards to check out the storage space.
Select neutral colors
Choosing your own paint colors is one of the many perks of owning your own home, rather than renting. However, if you've indulged in bright, vibrant wall colors, you'll likely need to repaint before you put your home on the market. Paint over brightly colored walls with neutral shades of white, taupe, or light gray.
Add fresh touches
Ahead of your open house weekend, it's a good idea to add some fresh touches to the rooms. Place a bowl of fresh citrus fruits in the kitchen. Add a couple of potted plants to the living room and place a vase of flowers in the foyer.
Brighten the rooms
Another last-minute touch before your open house event is to let in as much light as possible. Open all the blinds and curtains. Turn on all the lights, even if your showing is during the day. If the closets have lights, turn those on too. You don't want prospective buyers fumbling around to find the right switch.
Looking for new homes in northern Delaware?
After investing time and energy into fixing up and staging your old home, the last thing you'll want to do is buy a fixer-upper that needs lots of work. Instead, check out the collection of move-in ready homes available from Montchanin Builders. Our new construction homes in New Castle County, Delaware are built with exquisite attention to detail. Give us a call today at 302.472.7212 to schedule a viewing in our walkable neighborhoods of Darley Green or The Overlook at Rockford Falls.
Additional resources for home buyers and sellers: