New Construction Homes Save Big on Energy Costs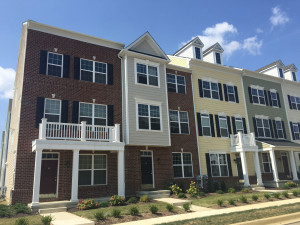 When searching for a new home it's easy to get mired down in the details, whether talking about location, floorplans, or number of bedrooms. During this exciting time, it's all too easy to forget about another important feature that can make or break your finances over the long-haul – energy costs.
While a low mortgage may seem like icing on the cake for a beautiful fixer-upper, heating and cooling bills can climb into the thousands of dollars, putting immense strain on your monthly budget. You can expect to pay significantly more in utilities in an older home, especially with outdated oil heaters.
Without the benefit of energy-efficient appliances and heating systems, double paned windows and good insulation, your new abode can turn into a bottomless money pit during summer and winter months. When you consider that heating and cooling accounts for up to 70 percent of a home's total energy bills, it pays to look at the energy efficient aspects of buying a new home.
Energy efficiency of new construction homes
In terms of heating and cooling costs, new construction homes are a recipe for financial savings, look at the energy-saving package offered in the move-in ready homes at Darley Green:
Energy efficient gas heating
High efficiency 14 Seer Air Conditioner
Energy saving appliances by Whirlpool
High performance ceiling Insulation and exterior wall insulation
Insulated vinyl windows
Compared to older dishwashers, fridges and ranges, ENERGY STAR-qualified models can really help lower your bill, using 15 to 20% less energy.
Natural gas heating can also save big bucks on winter heating bills in Delaware. Compared to propane, electric and oil heat, natural gas is much easier on the wallet.
For the winter season of 2014-2015, average heating costs in Delaware were:
$3,050 ($3.05/gallon) – propane
$1,860 ($3.10/gallon) – heated oil
$1,180 ($0.12/kwh) – electric heat
$588 ($0.98/ccf) – natural gas
Move-in ready homes in Delaware
Besides saving a bundle on your energy bills, the twin, townhomes and condos at Darley Green offer luxurious features like gourmet kitchens, Mohawk stain resistant wall to wall carpeting, recessed lighting packages, 9-foot ceilings, and classic exterior styling with maintenance-free siding.
Montchanin Builders is proud to offer quality craftsmanship and excellent value in their new construction homes featured in Darley Green, The Town of Whitehall and Shipley's Circle. Learn more about our beautiful townhouses, condominiums and single-family estate homes in Delaware by calling today.