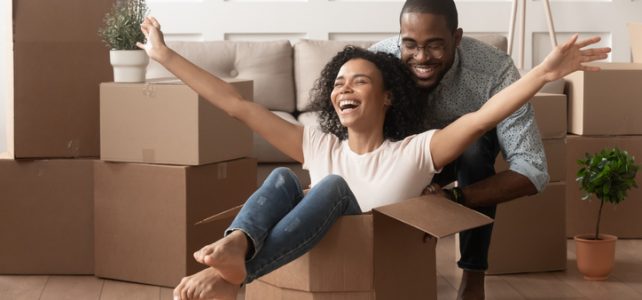 Rent or Buy? 4 Questions to Ask Yourself
Do you have the home-buying itch? The urge to nest and have a place that you can truly call your own? Homeownership is one of the greatest feelings in the world. It confers a certain sense of pride, stability, and security that's hard to beat. But is homeownership always better – and financially wiser – than renting?
Wouldn't it be better to make a monthly mortgage payment, instead of throwing away those hard-earned dollars on a property that doesn't appreciate?
Buying a new home may be one of life's most thrilling moments, but it's not always the right decision. If you're contemplating whether to rent or buy, ask yourself the following questions. The answers should steer you in the right direction.
Can you afford homeownership?
Buying a home will be one of the largest purchases of your life. Are your finances up to the challenge? Most experts agree that your housing budget should not exceed one-third of your income. It's not just a monthly mortgage payment to consider, but also insurance, taxes, routine maintenance, potential HOA fees, and repairs that factor into the equation.
In terms of interest rates, is it a good time to buy?
Most people aren't buying a home with cash. They need to finance and borrow money, which means looking at federal interest rates. The higher the rate, the more money you'll be shelling out over the life of your mortgage. Right now, the 30-year fixed rate is at an all-time low, hovering around 3.30 %. For motivated home buyers, this is excellent news!
Will my credit score help or hinder?
You'll need a decent credit score to qualify for the best mortgage loans. While getting a mortgage is not impossible with poor credit, the terms will be less favorable, meaning you'll pay more interest over the long-term. There are various websites to check your FICO credit score, some of them free of charge. Credit scores can range from 300 to 850. Generally speaking, you want a score of at least 620 or higher to be in the 'good' to 'exceptional' categories.
What are your individual goals?
Much of the rent vs. buy dialogue revolves around simple economics, but if your finances are in order, ask yourself if you're ready for the stability and responsibility that comes with owning a home.
Lifestyle and future goals also come into play. Homeownership gives you privacy, freedom, and the ability to put roots down in a community. On the flip side, renting offers a degree of flexibility and convenience, but you'll never be able to customize the look of your home without complying with rules and regulations.
Montchanin Builders homes for sale in Wilmington, Delaware
There are many factors that play a role in the decision to rent or buy. When starting your search for new homes in northern Delaware, turn to Montchanin Builders for expert craftsmanship, superior construction, and modern floorplans in the most desirable communities.
Explore the beautiful move-in ready homes for sale at our master-planned community of Darley Green. Get in touch today to schedule a personal tour, and learn more about financing options available!