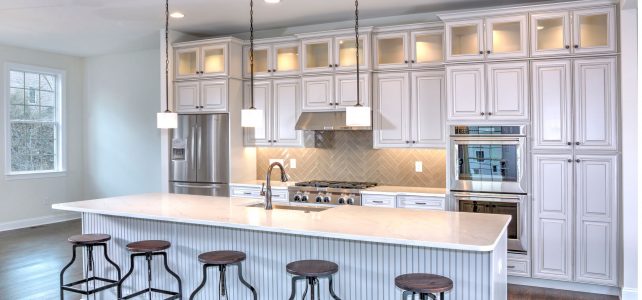 Top 4 Advantages of Buying New Construction Homes
There are so many questions to answer when you're ready to buy a new home. Where do you want to live? How much house can you afford? And which floor plan best suits your needs?
One question that should be at the top of your list is whether you should buy a previously owned house or a new construction home. Before you decide, consider all of the following benefits of choosing a new construction home.
You'll live in a home that is truly all yours
One of the best aspects of homeownership is that you'll be living in a place that is yours and yours alone—no more paying rent to a landlord who may or may not fix that dripping faucet. But if you move into a previously owned house, you'll see subtle signs of the prior owners everywhere. Perhaps they had an odd taste in landscaping, or maybe they left behind a TV mounting bracket on the wall in the master bathroom. Appliances may be old and glitchy. Repairs may be needed. The overall feeling you may have is that you're a guest and not the owner.
You're likely to find numerous little oddities that remind you that someone else lived here first. Your new home will only truly be yours and yours alone if you're the first person to live there. There's something to be said for starting fresh with a clean slate.
You can take advantage of personalization
Personalized options are another reason why new construction homes allow you to truly make your new home your own personal space. Homebuilders will work with buyers to personalize their new construction homes. When you purchase a new home from Montchanin Builders in Delaware, you can choose the floorplan, as well as cabinets, countertops, flooring, and more!
You'll love the energy efficiency
Building technology continuously evolves over time. The new building materials available now are superior to those used even a few decades ago. When you buy a new construction home, you can rest assured that you're getting the most modern building materials and time-tested building techniques. Furthermore, your new construction home will be outfitted with materials and appliances that support better energy efficiency. Imagine how much money you'll save on utility bills when you have a kitchen and laundry room fully equipped with energy-efficient appliances.
You'll save a bundle on home repairs
Another attractive perk of buying a new construction home is that you shouldn't have to deal with any major repairs for quite a while. Your roof will be brand new and will last for decades. You won't have to deal with replacing a malfunctioning water heater that suddenly decides to flood the home in the middle of the night. Your floors will be perfectly finished, and all of your appliances will be brand new.
Not only will this save you money; it will also save you time. It'll be quite a while before you have to take time off work to wait for a repair person or contractor to show up.
Explore new construction homes for sale in Delaware
Montchanin Builders specializes in offering move-in ready, new construction homes in Delaware that combine luxury with affordability. We build more than homes, however; we build communities that are true neighborhoods, complete with wide-open green spaces. Explore our available floor plans in the Wilmington community of Darley Green and give us a call at 302.472.7212 to schedule a tour. Be sure to ask us about our special financing offers!