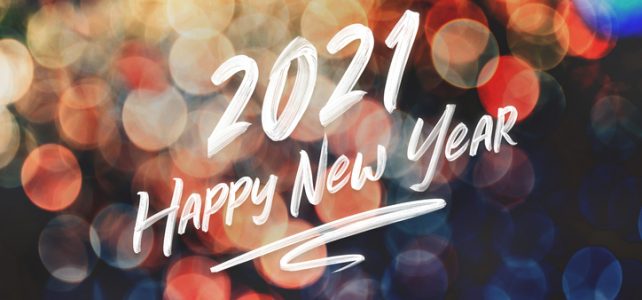 Creative Ways to Celebrate New Year's Eve at Home This Year
There is much to be hopeful for in 2021 – including an end to the pandemic –  but with social distancing guidelines still very much in place, our New Year's Eve celebrations will look a little different than normal this year. Celebrate safely in style with these creative at-home party recommendations!
Dance, Dance, Dance!
"This virtual party is NOT your average livestream," say the dance party pioneers at Daybreaker. Their New Year's Eve event brings the nightclub to your living room with fun themes, DJ sets, multiple in-event communication channels, and a bundle of goodies like paper masks and themed décor sent out in advance. Some attendees are putting dress code requests out there, hiring DJs, and hosting their own breakout rooms.   You can test-drive the service on Saturdays at 11 am, at which time the stream features a live DJ Zoom dance party with a dress-up theme of the week.
Play Games
There are more than a dozen virtual games to play with friends – from BINGO, Trivia, and Jeopardy, to Scattergories, All Bad Cards (Cards Against Humanity), and Charades. You can also pair these games with a phone app like House Party to see everyone in real-time.
Watch Vegas Fireworks
If you've ever wanted to visit Las Vegas or miss the good times spent there, you can watch the Las Vegas Convention and Visitors Authority reveal a lighted 2021 sign in a blaze of fireworks, streamers, and confetti. The 15-minute event begins just before midnight on its website, Facebook page, and YouTube channel. If you're feeling lucky, you can also enter to win a trip to Las Vegas.
Tune into NYC's Virtual Ball Drop
New York City will broadcast a "virtually enhanced celebration" that will combine celebrities, entertainers, announcers, and a virtual ball drop. We're still in the dark as to the specifics, but that makes it all the more exciting. Tune in at TimesSquareNYC.org, TimesSquareBall.net, or on the TimesSquareNYC Facebook and Twitter feeds.
Cozy Up to a New Year's Movie
Grab a bag of popcorn, mug of cocoa, and cozy blanket for a movie taking place over New Year's Eve:
New Year's Eve
Sleepless in Seattle
When Harry Met Sally
While You Were Sleeping
Forrest Gump
The Godfather II
Ghostbusters II
Waiting to Exhale
Strange Days
Rosemary's Baby
RENT
Four Rooms
Are We There Yet?
Trading Places
Take a Home Tour
Montchanin Builders is open for business! What better time to look at new homes in Delaware than the start of a new year, when you're gearing up to make fresh resolutions and big changes? Our offices will reopen from the holiday on January 4th!
Your new home is waiting. Three of our communities have sold-out, but there is availability remaining at the master-planned community of spacious townhomes and condos at Darley Green. Call the office to schedule a viewing, explore customization options, and look into special financing deals. Please bring a mask to the tour for your safety and ours.