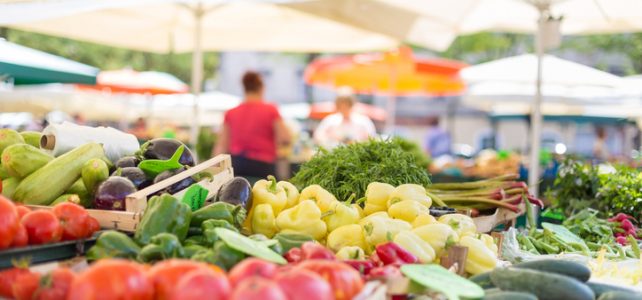 Everything You Need to Know About the Summer Farmers Market in Kennett Square
Craving a delicious meal made from locally sourced ingredients? There's nothing better than buying local at a farmers market. Fresh food from nearby farms always tastes better because the sugars haven't had time to convert to starch, and the other components haven't degraded. Fresh veggies and other locally produced ingredients are bursting with flavor. And if you live near Kennett Square, Pennsylvania, you're in luck! Swing by the summer farmers market in Kennett Square to support local food growers and make a meal to remember.
(302) 472-7212

Call to Inquire about Kennett Pointe Town Homes

About the Farmers Market in Kennett Square
In 2000, Kennett Collaborative, a nonprofit that seeks to promote and enhance the community of Kennett Square, launched the annual spring and summer farmers market.
Its mission is to enable local farmers and food producers to thrive economically by connecting them to consumers in the area who are eager to find fresh ingredients and support their neighbors' businesses.
The farmers market serves to enhance the true spirit of community in close-knit Kennett Square.
Kennett Square Farmers Market: When and Where
The Kennett Square Farmers Market operates every spring and summer. You'll find the vendors at The Creamery of Kennett Square at 401 Birch Street. Arrive between 3:00 and 6:00 pm every Friday during the season. The farmers market also operates during the winter season, but with limited dates and hours.
There can be quite a crowd gathering around the farmers market, but there is no need to arrive early to ensure access to the best local products. If you sign up for the weekly farmers market newsletter, you'll get information about how to pre-order your favorites. You'll also get the latest news from vendors, including their product updates.
(302) 472-7212

Call Today for Details about our Kennett Pointe Community

Vendors you'll find at the farmers market in Kennett Square
If you're heading to the farmers market to shop at a specific booth, you should check the website or the weekly newsletter before you go. Some vendors are regulars who are there each Friday, while others attend the market once per month or bi-weekly. The overall roster of vendors is also subject to change from time to time, but in general, you can rely on the Kennett Square Farmers Market to provide a pleasing, wide diversity of local products. Some of the vendors include the following:
Amazing Acres Goat Dairy (goat's milk cheeses)
Aunt Mamie's Pasta (fresh and frozen pastas)
Bee Our Guest Wraps (reusable beeswax food storage wraps)
Birchrun Hills Farm (cheeses)
Botanical Bubbles (handcrafted soaps and lotions)
Brandywine Bee Company (honey and candles)
Flying Plow Farm (certified organic produce, poultry, eggs, and grass-fed beef)
Honeymoon Farm (mushrooms and poultry)
My Greens (microgreens)
Swallow Hill (sustainable produce)
Taste of Puebla (ready to eat and heat-and-eat Mexican meals)
Tat's Yummies (baked goods)
New townhomes for sale in Kennett Square PA
With so many things to do and sights to see, it's no wonder that Kennett Square is considered by locals to be the hidden gem of the U.S. Our newest master planned community, Kennett Pointe, is perfectly situated for those who enjoy neighborly living with plenty of nearby amenities. Explore the spacious floorplans of the new construction homes near Kennett Square today! Call Montchanin Builders to learn more and to schedule a viewing. And be sure to ask us about special financing offers.