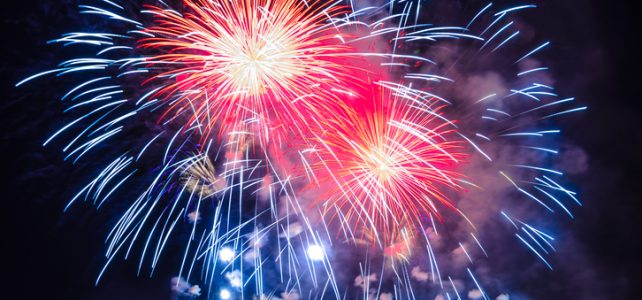 Best Places to Watch July 4 Fireworks in Wilmington, DE
Now that COVID restrictions are relaxed, there are plenty of options for celebrating America's independence this year in Wilmington, Delaware – especially when it comes to enjoying fireworks shows in picturesque settings. How about a fireworks cruise or train ride? Or, head down to Delaware's only pro baseball park to catch a post-game pyrotechnics celebration! Below, check out all of the fun places to watch the July 4th fireworks in Wilmington, DE, in 2022.
Take a relaxing fireworks cruise
Sure, you could visit a city park to watch a fireworks display. But why not see them from the Delaware Bay? You'll get a completely unobstructed view, while enjoying refreshments and even live music! The fireworks cruise, offered by the Cape May-Lewes Ferry, will take place on Sunday, July 3rd. The check-in time is between 5:30 and 6:45 pm, with boarding starting at 6:45 pm sharp. The cruise will depart from the Lewes terminal at 7:15 and will last until 11:00. Live music is provided by local band Glass Onion, as well as DJ entertainment from Just Kidding Around Entertainment. You can see the acts from the 3rd deck Lido Bar. Food and beverages are available.
Hop aboard the Fireworks Express
Few historic trains still operate in the U.S., but you can still find them in Delaware. In fact, the Wilmington & Western is a leading tourist attraction in the state, and it's beloved by locals, too. Hop aboard a historic steam locomotive to enjoy the beautiful scenery along the route to Hockessin in Northern New Castle County. When you reach your destination, you'll be treated to one of the best fireworks displays you'll find anywhere. Boarding begins at 6:45 pm on July 4th, and passengers are welcome to bring folding chairs, coolers, and blankets on board. Reservations are required.
Catch a game and a show in the same day
It isn't quite summer without a day at the ballpark, and Wilmington is the proud home of Delaware's only pro baseball facility, Daniel S. Frawley Stadium. Visit the ballpark on July 1st or 2nd when the Wilmington Blue Rocks play the Jersey Shore BlueClaws. Enjoy the game, cheer on the Blue Rocks' mascot, the mysterious Mr. Celery, and stay for what promises to be a fantastic post-game fireworks show. On July 2nd, the stadium is also having Truly Happy Hour from 5:30 to 7:00 pm, along with a trucker cap giveaway.
If you happen to miss all of the fireworks displays in Wilmington this July, or if you simply didn't get enough pyrotechnics, you can head back to the stadium on July 22. The Blue Rocks are playing the Hudson Valley Renegades, and are planning another post-game fireworks show, along with a giveaway of Blue Rocks 30th Anniversary Card Sets.
Enjoy the Freedom Celebration Fireworks Show at Riverfront Park
Last but certainly not least is the city's annual fireworks show at the Tubman-Garrett Riverfront Park. It's being held on July 4th from 2:00 to 10:00 pm (rain date is July 5th). The fireworks show starts at 9:15 pm, but you'll definitely want to arrive at 2:00. The city goes all out for the Fourth, with food and merchandise vendors, as well as fun activities like games, pony rides, a crafts tent, petting zoo, and mini train rides, all set against the background of live music. Free parking will be available at the Shipyard Shops, Frawley Stadium, and the Chase Center. Feel free to bring lawn chairs and picnic blankets!
Schedule a viewing of luxury townhomes in Wilmington, DE
Montchanin Builders is the premier builder of luxury townhomes in Wilmington, DE, and residents can enjoy the charms of neighborly living with the convenience of living in close proximity to big city amenities. Contact Montchanin Builders today to schedule a viewing of our beautiful homes in Darley Green. Looking for elevator townhomes in Wilmington, DE? Check out The Townes at Barley Mill in Greenville, just a short drive away from Wilmington!