Luxurious Bathroom Remodeling by Delaware Home Improvement Contractors at Montchanin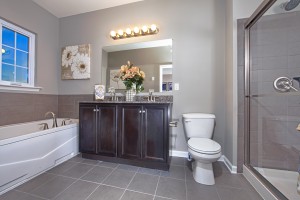 Ask the new generation of young house hunters what key features they're looking for in a new home, and besides location, space, and a good family room, they'll usually tell you a terrific kitchen and a really great master bath. Ask a group of "veteran" homeowners what they'd most like to change about their current houses and the answer you'll hear most often is, "I really want to redo the baths."
Montchanin Builders, the premier Delaware home improvement contractors, know the kitchen is generally the center of the family action and interaction—the place we go to find each other, relax in each other's company, and catch up on the day's affairs. But Montchanin also understands the bath—a place where each of us goes to escape to find some peace and private downtime. It's one of the few places in our lives where we can go to luxuriate and pamper ourselves, hopefully without interruption. And don't we all deserve a little of that luxury each day?
Is a bathroom remodel within my reach?
It used to be that if a bathroom was functional, that was pretty much good enough. Cramped and uncomfortable? No big deal. Take your shower and leave. Well, those days are long gone when doing a bathroom remodel. Delaware-based Montchanin Builders can show you how a luxurious, well designed and spacious master bathroom is no longer an unimaginable accessory –-it's an easily attainable luxury and a smart financial move as well!
Remodeling Magazine says the national average for a bathroom remodel is about $16,000. The National Kitchen & Bath Association ballparks a remodel at about $18,000 and happily, one where a homeowner can recoup 65% of the remodeling costs when it's time for a sale. An addition takes considerably more time, labor, and materials to expand an existing space and averages about $37,000, but a more spacious and luxurious bathroom will bring back about 55% of the addition costs at resale.
2014 bathroom remodel trends
Exquisite materials, smart systems , water-saving technology, and good old-fashioned sensual comforts are the 2014 must-haves in new bathroom remodels and additions.
All natural wall and flooring materials like stone, slate, bamboo, rich-toned wood, even metal are showing up in stylish baths.
Tricked out showers –how about an LCD screen panel in the shower to control water pressure, temperature, steam, a sound system, even mood lighting?
Water saving features—the federal government's WaterSense label is encouraging manufacturers to respond to the call to reduce toilet and faucet water use. Low-flow toilets allow two flush options–.8 gallons or 1.6 gallons. Hands free faucets control flow.
Universal bath design for "aging in place" homeowners—older homeowners are opting to stay in their homes and having them adapted for use for their reduced mobility instead of moving —walk-in tubs, shower seats, curb-less showers to allow for wheelchairs and walkers are key items.
Free standing soaking tubs made of copper, glass, walnut, and polished concrete. 
How do I get started on a bathroom remodel?
It's easy! Start clipping some photos out of design magazines of bathrooms that catch your eye. Go to a local bath supply store and take a look around. They'll probably have some of the newest products right in their showrooms. Then put together a wish list of what you might appreciate most in a remodeled bath. Make sure you remember that the bath is your personal space for you to enjoy.
Then, call Montchanin Builders, the top-flight Delaware home improvement contractors, at 302-792-1066 and set up your free bathroom remodeling consultation. Montchanin will help you design your space within your budget, draw up the blueprints, secure the required remodeling permits, and bring in a top-notch team of craftsmen and professionals to do the job on budget and on time.
You'll soon have your own gorgeous bathroom remodel Delaware-style from Montchanin Builders.