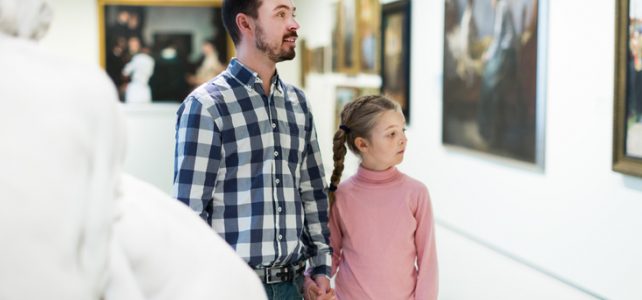 Upcoming Events and Exhibits at the Delaware Art Museum
During the winter of 1912, a small group of friends got together. All of them had known Howard Pyle, an author, illustrator, and native of Wilmington, Delaware. Pyle had died the previous year, and his surviving friends decided to honor his memory by forming the Wilmington Society of the Fine Arts. It was from this event that the Delaware Art Museum was born. Today, the museum is home to an extensive collection of British pre-Raphaelites, John Sloan works, and American 19th century artwork. It's also a popular destination for families interested in checking out exciting events, classes, and activities. Here's a look at some of the upcoming events and exhibits you'll find at the Delaware Art Museum this year.
Fairy Tales to Nursery Rhymes: The Droller Collection of Picture Book Art
This upcoming exhibit is a perfect choice for families with young kids. It's open from March 2 through May 12, 2019. The exhibit is comprised of more than 100 original illustrations that captivate children and take adults back to the simple innocence of childhood. This exhibit features an eclectic collection, from the Brothers Grimm to Dinosaur Bob. You'll see works by notable artists such as Kate Greenaway, Randolph Caldecott, and Maurice Sendak.
Family Second Sundays
Every second Sunday of each month, the Delaware Art Museum hosts Family Second Sundays. It's a full day of enrichment programming designed especially for families. The event kicks off with Art Museum Babies, featuring circle time, sensory play, and a "baby-friendly visit with a special work of art." The suggested age range is 0-2.
Studio Art Classes
The Delaware Art Museum is a favorite destination for aspiring artists. Originally, it was one of the only places in the region where artists could gather for classes. These days, there are workshops and classes suitable for artists of all ages and skill levels. Choose from photography, metalsmithing, ceramics, drawing, painting, and printmaking. Families with young kids and teenagers should be sure to check out the upcoming youth classes and workshops, like Art Launch, Artwise, and Advancing Young Artists.
Masterpieces of Color and Sound
This concert concludes the 10th anniversary season of the Pyxis Piano Quartet at the Delaware Art Museum. It will be performed on May 2, 2019 at 8:00 pm. However, you'll want to get there early. Heather Campbell Coyle is presenting a curator's talk before the concert, starting at 7:30 pm.
The Pyxis Piano Quartet (violin, viola, cello, and piano) is expected to play works by Beethoven and Brahms, as well as a piece by a local composer, David Schelat of Wilmington. Before the concert, you can purchase light fare and alcoholic beverages at the Thronson Café. Complimentary coffee and dessert will be served during the intermission.
Looking for homes near Delaware Art Museum?
Montchanin Builders' newest community, The Overlook at Rockford Falls, is within easy walking distance of many family-friendly attractions, including the Delaware Art Museum. You'll also find yourself just a stone's throw away from a walking trail, and state park land. This beautifully designed, walkable community is comprised of just 32 luxury townhomes in order to encourage a close-knit, neighborly ambience. For homes near the Delaware Art Museum, schedule a viewing today and find out about special financing offers by calling Montchanin Builders at 302.472.7212.
Additional resources on Delaware living
Delaware Art Museum, https://www.delart.org/
Culture Trip, 10 Must-See Art Galleries And Museums In Delaware, https://theculturetrip.com/north-america/usa/delaware/articles/10-must-see-art-galleries-and-museums-in-delaware/