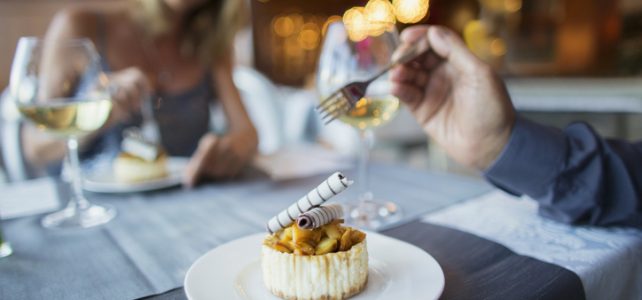 Best Desserts in Greenville, DE
Got a sweet tooth? Live in Greenville, Delaware or thinking of moving there? You're in luck! Greenville, a cozy, neighborly suburb of Wilmington, Delaware, is quite close to many restaurants, cafes, and caterers that offer amazing desserts. After you enjoy a full day of visiting all of the nearby historic sites or outdoor recreation venues, you'll want to check out some of the local favorite dessert spots below.
CupKate's Bakery
CupKate's Bakery (4001 Kennett Pike, Suite 134, Greenville) specializes in crafting unique, customized treats for special events like birthdays, anniversaries, retirement parties, or any other occasion that pops up. Order a custom cake or grab a tray of macarons for your next card game with your friends. They also offer custom cookies and cupcakes, as well as daily grab n' go sweets from the menu. Choose from delicious flavors like Boston cream, chocolate lovers, strawberry shortcake, s'mores, and more!
Brew HaHa!
The Brew HaHa! isn't a dedicated sweet shop; rather, it's a coffeehouse with a laidback atmosphere known for delectable desserts as well as incredible coffee and espresso. This coffeehouse has a few locations around the area, including one at 3838 Kennett Pike in Greenville and a handful in Wilmington. Enjoy a Greek salad to get in your daily veggies before diving into the raspberry or apple crumb cake, iced lemon loaf, or brownies. They often have special items pop up on the menu for a limited time, like Oreo cheesecake cookies.
(302) 472-7212

Call for More Information About Luxury Town Homes In Greenville, DE

Sweet Somethings Desserts Shop
The Sweet Somethings Dessert Shop has been crafting unique flavors in Wilmington, DE since 1997, often using local ingredients. Swing by to choose from their cookie menu (snickerdoodles, almond macaroons, and seasonal flavors like raspberry sable cookies) or their cupcakes (chocolate raspberry, chocolate mousse, carrot cake, cookie dough, lemon Chantilly, and too many others to list). They also offer pies and tartlets, like red velvet cookie tart, Nutella tart, and peanut butter pie. Sweet Somethings also makes specialty cakes to order, including shaped cakes with ingenious designs.
PureBread Deli
The PureBread Deli on Limestone Road in Wilmington might not be wholly dedicated to sweets, but rumor has it they have one of the best brownies in town. They also offer freshly baked cookies and a to-die-for cinnamon twist with vanilla icing drizzle. Go straight for dessert or enjoy one of their healthier signature sandwiches, salads, or soups first. The best part? While you're getting your sugar fix, you can feel good knowing that patronizing the PureBread furthers their mission of supporting rescue animals.
Check out new townhomes near Wegmans in Greenville, DE
Great desserts are certainly not the only reason to love life in Greenville. When you move to the newest master-planned community, The Townes at Barley Mill, you can enjoy all that this cozy suburb of Wilmington has to offer. You'll be just a short drive away from excellent entertainment, fine dining, shopping, and historic sites. Schedule a viewing of the luxury townhouses in Greenville, DE today by contacting Montchanin Builders. You'll love this neighborly community and the incredible amenities in our beautiful homes.