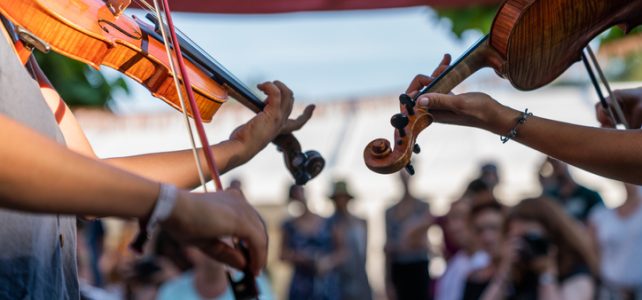 Wilmington, DE's Best 2022 Summer Concerts
There's a lot to love about summer—the fresh air, sunshine, and summer breezes, just to name a few. But it doesn't quite feel like summer until you've been to the first concert of the season. If you live in the Wilmington, Delaware area, you've got easy access to a wide range of summer concerts, both in Wilmington and in destinations just a short drive away.
Free summer concert series in Wilmington, DE
You don't always have to pay to enjoy great live music. Those who live in the Wilmington area can take advantage of a free concert series this summer thanks to the Friends of Wilmington Parks, Delaware State Parks, and the City of Wilmington.
There is a Rockford Park series and a Sugar Bowl Pavilion series. All Rockford Park concerts kick off Mondays at 6:30 pm. This series features artists such as The Honey Badgers, Sunset Riders, Hot Breakfast!, and Jason Ager. All Sugar Bowl Pavilion concerts are scheduled for Wednesdays at 6:30 pm. Artists in this lineup include Nic Snow, Howl, Mega, Too Tall Slim, and Lori Citro. The full lineups and dates are available on the Friends of Wilmington Parks website.
Elton John, Alicia Keys, and more big acts in nearby Philly
Philly is just a short drive away from Wilmington—one of the many perks of living in this beautiful town—and there are lots of concerts to choose from in Philly this summer. The Citizens Bank Park is hosting none other than the venerable Elton John on July 15 for what is being billed as his last tour before his planned retirement. Citizens Bank Park is a lovely outdoor venue whose day job is serving as the ballpark for the Philadelphia Phillies. Also playing in Philly this summer at various venues are Alicia Keys, Josh Groban, Brandi Carlile, and Michael Buble.
Carla Morrison
Acclaimed singer-songwriter Carla Morrison is back and her new music is incredibly raw and heartfelt. This Californian singer has earned several Grammy nominations throughout her career, and she's also won in the Latin Grammys. She has previously performed at Coachella and other notable venues, and now she's bringing her incredible act to Longwood Gardens. Longwood Gardens is an open air venue located in Kennett Square, PA, which is just a 30-minute drive from Wilmington. You can see Carla Morrison on July 6 at 7:30. Tickets are expected to sell quickly, so don't delay!
Femi Kuti comes to town
If you'd rather stay closer to home, check out the lineup at the Queen Theater in Wilmington this summer. Femi Kuti, the renowned Nigerian Afrobeat musician, will be playing on July 15. The theater recommends but does not require masks.
Get close to the action by making the move to Delaware
Now is the perfect time to check out the homes for sale in Wilmington, Delaware. The outstanding concerts, nightlife, outdoor recreational opportunities, and cultural attractions are just a few of the reasons why Wilmington is the perfect place to call home. And when you move into the master-planned communities of Darley Green or The Townes at Barley Mill, you'll enjoy a small-town ambiance, yet still have close proximity to major amenities. Contact Montchanin Builders today to schedule a viewing of our new construction homes in New Castle County, Delaware!