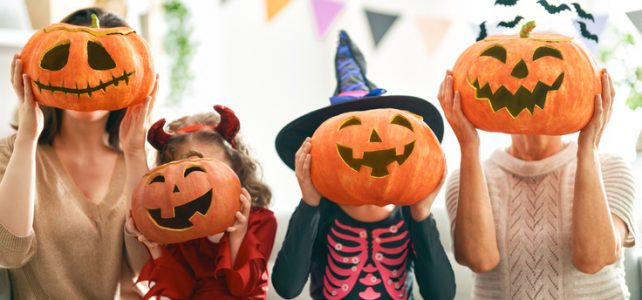 5 Fun and Safe Ideas for Halloween 2020
Halloween is right around the corner, and this year's celebrations may need to be more creative than they've ever been before. Because of the pandemic, trick or treating, haunted houses, and holiday parties may not be on the agenda this year. Fortunately, there are still plenty of ways to celebrate the spookiest day of the year while staying safe.
Here are some tips for celebrating Halloween in 2020:
Make a Front-Yard Pumpkin Display
One of the great things about Halloween is that it's easy to participate in many of the holiday's most beloved activities even if you're staying in. Carving jack-o'-lanterns is something that people of all ages can enjoy, and 2020 is the perfect time to create a truly memorable pumpkin display for your front porch. You might carve an entire family of pumpkins, each with its own unique face and personality.
Have a Virtual Party
While in-person costume parties may not be feasible this year, virtual parties are! Thanks to Zoom and other video apps, you and your friends can dress up and impress each other with your costumes without ever leaving your homes. Since you won't have to worry about walking or driving, this could be the year to indulge and create a more elaborate costume than usual.
Host a Candy Scavenger Hunt
If you have children to entertain, then having a scavenger hunt for candy—either in your backyard or your home—can be a fun substitute for trick or treating. Buy as many types of candy as possible, then give yourself at least an hour to hide them in different spots. If you use the backyard, make sure that you do a quick inspection after the hunt so you can be sure that you've found all of the candy!
Visit a Pumpkin Patch
If there is a pumpkin patch in your area that is following proper safety procedures, including social distancing, then visiting it to pick out pumpkins can be a fun and relatively safe outdoor activity. Make sure to bring hand sanitizer and to use it before and after touching the pumpkins, and wear masks whenever you are around others. Keep in mind that costume masks should not be used instead of proper face masks and that the two should not be worn together.
Try One-Way Trick or Treating
Another alternative to traditional trick or treating is one-way trick-or-treating, in which you put treats in individually wrapped bags and put them in a safe place for others to pick up. If you decide to do this, be sure to wash your hands thoroughly before handling the treats.
Find Your Dream Home Near Wilmington, Delaware
If you are looking for a new home that combines spacious living, beautiful natural surroundings, and proximity to all the amenities of a thriving big city, the gorgeous townhomes and condos at Montchanin Builders' walkable community at Darley Green in Wilmington, DE, could be perfect for you.
If you would like to learn more about our new homes in northern Delaware, then give us a call today to schedule a viewing! Our friendly team is here to answer your questions, and we can also provide you with information about our special financing offers for first-time home buyers.