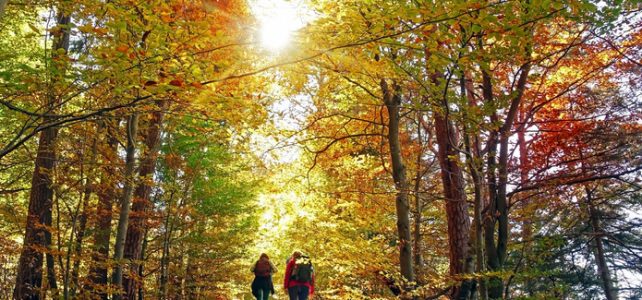 How Living Close to Nature Can Boost Your Health
There are lots of reasons why you may want your home to be surrounded by nature, and health benefits are right at the top of the list. A recent study published by the University of East Anglia found that amongst 290 million people worldwide, those living closer to nature were most likely to feel healthier and live a longer life.
The term "nature" wasn't just reserved for a cabin in the middle of the woods. Even those living in urban or suburban neighborhoods with plentiful green space enjoyed a longer, healthier life.
Research Shows Myriad Health Benefits for Those Living Near Green Spaces
The researchers organized participants by the level of accessibility they had to nature—whether they lived near a park or natural landscape, or if they were congested in a green-less concrete jungle—then surveyed their overall health.
They found that those with greater access to nature had significantly lower risks of Type 2 Diabetes, cardiovascular disease, premature death, and birthing preterm. Living closer to nature also increased sleep duration, lowered diastolic blood pressure, reduced heart rate, and eased stress.
Many of the studies theorized that those living near nature might live longer and healthier lives because proximity to parks and green spaces increases the probability of participating in daily physical activities, engaging in more social activities, and having less exposure to pollution.
Other studies, particularly those in Japan, suggest that organic compounds with antibacterial properties released by trees could hold some responsibility as well.
Either way, this study is enough reason to add "green space" to the "must-have" list for new homes in Northern Delaware.
Delaware Neighborhoods with Lots of Nature
Delaware attracts many residents because of its beautiful year-round natural surroundings. From bright summers to colorful fall, Delaware residents are constantly called to enjoy the great outdoors – and boost their health at the same time. At Montchanin Builders, we understand the basic human need to feel connected to nature, which is why our walkable neighborhood of Darley Green in Northern Delaware offers more than just gorgeous townhomes and condominiums.
Our neighborhood designers nestle your home within open green spaces and walking trails as part of the master-planned community layout.
Darley Green is also just a short drive away from endless outdoor activities in the Brandywine Valley —hiking, biking, horseback riding, birding, fishing, botanical gardens, nature centers, and parks.
Residents of Darley Green also enjoy being within walking distance of shops, restaurants, and other services, making it easier to enjoy modern amenities – and giving you another reason to get outside!
Tour a Montchanin Builders' Home
At Montchanin Builders, we build more than houses—we build communities. We invite you to tour our new homes in Northern Delaware. Schedule a viewing today or ask about our special financing deals.