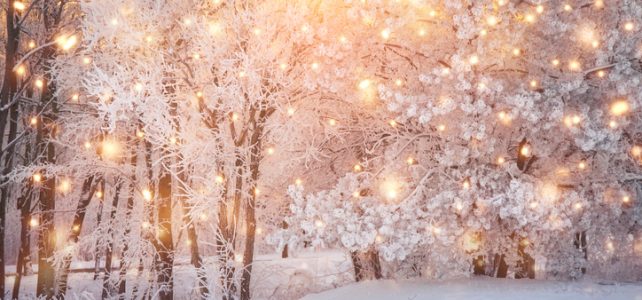 5 Ways to Safely Enjoy Delaware's Winter Wonderland in 2020
The holidays are here again, and though this year's celebrations might look a little different than usual because of social distancing, there are still plenty of ways to safely enjoy the gorgeous, festive winter wonderland that is Delaware!
From outdoor gardens and drive-through light shows to holiday animals, here are five ways to enjoy Delaware's winter wonderland in 2020.
Outdoor Gardens at Longwood
Longwood Gardens have been a Delaware holiday staple for many years with their special Longwood Christmas celebration. During the winter season, the outdoor gardens are decked out with twinkle lights, seasonal plants, and beautifully decorated trees. Take a safe, socially distanced walk in the open air to take in the magic, and then warm up by a welcoming fire pit.
Birdwatching at Bombay Hook National Wildlife Refuge
Bombay Hook is one of the premiere birdwatching locations in the United States, and winter is one of the best times to visit thanks to the snow geese. These gorgeous birds descend on Bombay Hook in the thousands as a stopover in their annual migration south. They snuggle into Delaware until March – so there's plenty of time to pay them a visit during the holidays.
Western Railroad Holiday Ride
The Wilmington and Western Railroad is a big draw for history buffs as it was first built back in 1867. But holiday fans will love this charming attraction, too, as it offers one-hour holiday rides in the 100-year-old coaches decorated with sparkling lights. Enjoy the festivities in safety as the staff ensure social distancing and mask-wearing.
Winter Wonderfest 2020
Wilmington's Winter Wonderfest is over one mile of breathtaking, festive Christmas lights on the picturesque Wilmington Riverfront. This installation is full of music, animated characters, and even Santa himself waiting to collect Christmas lists. Take it all in from the safety of the car.
Holiday Habitats at the Brandywine Zoo
Delaware's' Brandywine Zoo is well-known for its indoor and outdoor exhibits with unique animals like red pandas, lemurs, pygmies, eagles, and more. The zoo hosts its annual Holiday Habitats exhibit beginning December 28th to help visitors learn about what animals do to survive in the winter. Brandywine Zoo offers sanitation stations and plenty of space for social distancing.
Be Close to the Holiday Action with Montchanin Builders
When you live in the Wilmington, Delaware area, there are plenty of safe holiday activities for the whole family. From lights and animals to historic sights, Wilmington residents have all the festive fun right outside their doors.
If you want to be a part of Wilmington and all it has to offer, Montchanin Builders is here for you. Discover exquisite move-in ready homes in Wilmington, Delaware, with competitive pricing. Call today to ask about our special financing or to schedule a tour.
Additional Resources:
ConnectDelaware.com, Holiday Bucket List, https://connectdelaware.com/2020/12/holiday-bucket-list-top-5-family-activities-you-dont-want-to-miss-this-season/
TripSavvy.com, 10 Things to Do in Delaware for the Holidays, https://www.tripsavvy.com/best-things-to-do-in-delaware-for-the-holidays-4154332