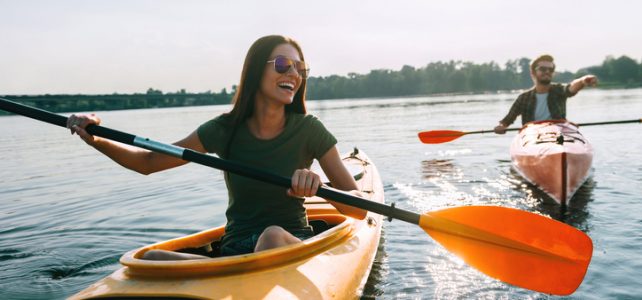 Best Outdoor Excursions Near Wilmington, DE
It's often said that the Wilmington, Delaware area is one of America's hidden gems. It's a town small enough to be neighborly, yet large enough to offer exciting entertainment options, plus it's close to major cities like Philly. Wilmington locals love all of the gorgeous outdoor areas close to town, like the Brandywine River and the many local parks. If you're looking for something to do out in the fresh air, here are some ideas.
Float down the Brandywine River
Are you looking for something relaxing? Or perhaps some invigorating exercise in the fresh air? Whatever floats your boat! The Brandywine River is the perfect destination, both for taking it easy and getting in an upper body workout. You can rent a canoe, kayak, or tube from Wilderness Canoe Trips. The peaceful flow of this river lets you paddle to your heart's content in a canoe or kayak, or simply kick back and relax on a tube.
Transportation back to your car is provided. Choose from a 12-mile canoe or kayak trip, six-mile canoe or kayak trip, or a 1.5-mile tube trip. Wilderness Canoe Trips ordinarily offers guided tours as well, although that has been curtailed for the 2022 season.
Take a stroll through the Brandywine Zoo
Interested in a fun outdoor excursion that offers free parking? Why not take a trip to the much-beloved Brandywine Zoo! The Brandywine Zoo has charmed visitors for over 115 years. The zoo prides itself on spacious, modern animal habitats, fun and informative exhibits, and plenty of programs and special events that are open to the general public. Here, you can see animals large and small, from tropical and temperate regions all over the world. Enjoy the unique vocalizations of Candace the capybara, watch the crowned lemurs scamper around, and marvel at the gorgeous serval from the grasslands of North Africa.
Enjoy an unbeatable view from a hot air balloon
If you're feeling a bit cooped up lately, what better way to enjoy the great outdoors than from the basket of a hot air balloon? You'll get an absolutely unbeatable view of the beautiful countryside. People often remark about how peaceful and relaxing it is up in the air. Yet, hot air balloon rides can also be rather exhilarating, especially if it's your first time. In the Wilmington area, Blair's Ballooning offers rides with highly trained pilots who will give you a thorough pre-flight briefing on what to expect.
You can go for a hot air balloon ride any time of the year, but there is a greater potential for last-minute rescheduling due to poor weather in the winter. The nearest launch site to Wilmington is in nearby Newark, DE.
Explore new construction homes in New Castle County, Delaware
There's always plenty of exciting things to do and see when you live in Wilmington, Delaware. And if you move to the master-planned communities of Darley Green or The Townes at Barley Mill, you can also enjoy tree-lined streets, excellent amenities close at hand, and an authentic, neighborly atmosphere. Montchanin Builders specializes in crafting spacious, modern homes with flexible floor plans and luxurious touches. Call us today to inquire about our townhomes for sale in Wilmington, Delaware and ask us about our special financing programs.