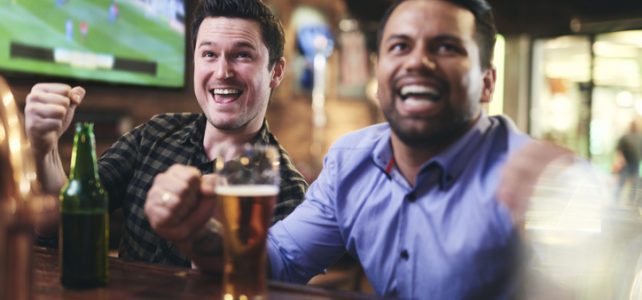 Best Places to Watch the Super Bowl in Wilmington, DE
It's shaping up to be an exciting Super Bowl this season. Whether you're rooting for the AFC or NFC, you'll need a fun place with a festive atmosphere to watch the big game. There are plenty of great sports bars in the Wilmington, Delaware, area—just one more reason why locals love living here. Check out the following sports bars for football-related specials and big-screen TVs.
Rocco Italian Grill & Sports Bar
Rocco Italian Grill & Sports Bar (locals just call it Rocco's) is definitely one of the most popular places in Wilmington to catch a game. You'll find it at 701 North Union Street. This family-owned and operated pub is renowned for its authentic, freshly prepared Italian cuisine and lively happy hours that offer great deals on domestic drafts and select wines (not to mention $5 plates). Be sure to check their website for upcoming specials for the big game on February 12, 2023.
Kelly's Logan House
At 1701 Delaware Avenue, this family-owned Irish bar knows how to throw a party. In fact, they even recently raffled off tickets to an NFL game. Kelly's Logan House serves a variety of beer on tap and in bottles and cans, including some from local breweries, and their comfort food can't be beat. Try their unique spin on classic favorites, like crabby fries (with cheddar sauce and crab toppings), buffalo spring rolls, and Philly rolls. Of course, they also offer reliable classics, like hot wings, chili nachos, fish and chips, chicken tenders, and fish and chips.
Kid Shelleen's Charcoal House & Saloon
Kid Shelleen's Charcoal House & Saloon is a local fave among football fans. They offer a stellar NFL loyalty program for fans. For every $100 spent, you'll earn a $15 rewards certificate. Choose from two locations: Trolley Square or their new tavern in Branmar Plaza. Kid Shelleen's has been serving up great food and good times for Wilmington residents since 1983, and their casual, friendly atmosphere makes it the perfect place to watch the Super Bowl.
Plus, they have award-winning burgers and unbeatable nachos. You can also enjoy a hot plate of wings (classic flavors or innovative spins, like their apple habanero wings). Of course, you'll also find a great draft beer menu at Kid Shelleen's, along with wine, hard liquor, and mixed drinks.
Washington Street Ale House
The Washington Street Ale House is another long-established local favorite that has been serving up great food and brews since 1997. You'll find this pub in the heart of Wilmington's business district. The friendly staff serves up a variety of upscale pub food, including chargrilled burgers (vegetarian option available), fish and chips, and steak frites. Their drink menu emphasizes local microbrews like Mad Elf and Orange Rocket.
Make yourself at home in these luxury town houses near Greenville, DE
If you're looking for a fun, vibrant community to call home, look no further than Wilmington, DE or its close-knit suburb of Greenville. Montchanin Builders is pleased to offer townhomes for sale in Wilmington, Delaware at our beautifully designed master-planned community of Darley Green. Or, choose from our spacious two-story condos. Our luxury town houses near Greenville, DE are located in the much-coveted community of The Townes at Barley Mill—newly opened with incredibly convenient features. Contact us today to schedule a personal tour!