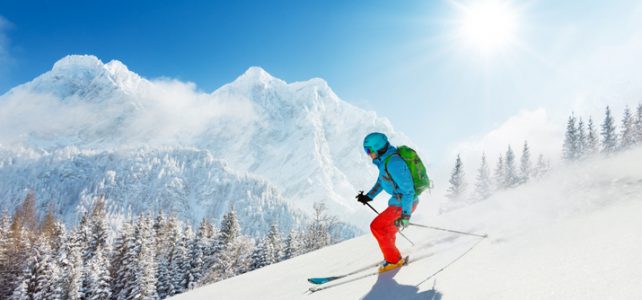 Best Skiing Getaways If You Live in Wilmington, DE
Wilmington, Delaware, is the place to be if you thirst for outdoor adventures at any time of year. During the winter, Wilmington residents love to take day trips and weekend getaways to the nearest ski resorts. There are several to choose from, including the Shawnee Mountain Ski Area, Roundtop Mountain Resort, and Spring Mountain Adventures.
Shawnee Mountain Ski Area
The Shawnee Mountain Ski Area is 125 acres of pristine terrain with 23 trails for skiers of varying ability levels. In other words, it's great for beginners and accomplished skiers alike. There is even a snow tubing area for people who don't feel quite as confident on skis yet. Bring some friends, as there is a speedy, four-person lift and excellent group package rates.
You'll find Shawnee Mountain in East Stroudsburg, PA. It's only about two hours north of Wilmington, making it an ideal day trip. If you do want to make a weekend of it, however, you can stay at the nearby Shawnee Inn & Golf Resort, which is just a couple of miles from the slopes and offers an onsite brewery.
Roundtop Mountain Resort
Roundtop Mountain Resort is known for reasonable rates, light crowds, and fun slopes. They offer 21 trails and nine lifts. Snow tubing is also available, as are lessons delivered by friendly experts. There are a bunch of excellent hotels nearby, including a newly built Marriott, and you'll love the multiple dining options available at the resort. You'll find Roundtop Mountain Resort in Lewisberry, Pa.
Spring Mountain Adventures
Spring Mountain Adventures is located in Spring Mount, PA, which is just about an hour's drive away from Wilmington. It's an incredible, must-visit destination that features seven main trails, plus a terrain park. The trails range from beginner-friendly to double black diamond. Spring Mountain is also known for its excellent skiing and snowboarding instructors for individuals of all ability levels. But people don't just flock here for the trails—they offer much more!
Be sure to check out the full-sized, outdoor ice rink! They have public skating hours, skating lessons, and ice hockey, plus special events like DJ skate nights. You can even book a private party at the rink.
Spring Mountain Adventures is loads of fun in the winter, but you'll also want to think about returning during the warmer weather. They are a year-round, outdoor activity center that features rock climbing, geocaching, downhill biking, and zip line canopy tours.
View townhomes for sale in Wilmington, Delaware
Close proximity to great skiing getaways is just one of the many reasons why Wilmington is a wonderful place to live. With fine dining, scenic views, and exciting attractions, you'll never run out of things to do or places to go. Call Montchanin Builders today to view our new home community in Greenville, Delaware—The Townes at Barley Mill—or our townhomes for sale in Wilmington, Delaware in our master-planned community of Darley Green. Built by master craftsmen and designed with luxurious touches, our homes will make every day feel like a vacation! Call today to schedule a viewing and inquire about our special financing arrangements.