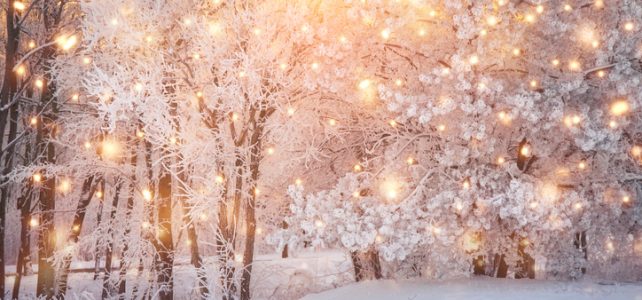 Can't-Miss Winter Festivals Near Greenville, DE in 2022
Greenville, Delaware is a cozy suburb of Wilmington. Its residents value the quiet, small-town vibe, but love that they're so close to the amenities of major cities. The Greenville and Wilmington area likes to go all out for holiday celebrations. If you've just recently moved here or you're visiting, you'll want to check out the following winter festivals.
A Farmer's Christmas Through the Years
A Farmer's Christmas is a unique winter festival presented by the Delaware Agricultural Museum and Village. This year, it's being held from November 26 through December 17. You'll enjoy a journey back in time as you walk through the main exhibit hall. Take in the festive decorations and music by carolers while you enjoy freshly baked holiday treats, try your hand at holiday crafts, and check out the artisan demonstrations.
Holidays at Hagley
The Hagley Museum and Library is a local favorite for Wilmington residents any time of the year. From the beautiful gardens to the American invention exhibit, it's always worth a visit. But you shouldn't only come in the summer for the gardens. Every year, the Hagley Museum puts on a festive holiday party. This year, Holidays at Hagley is being held from November 25 through January 1. Check the website for the right times for the day you plan to visit.
This year's theme is "All Creatures Great and Small." It's a celebration of the animals, both domesticated and wild, who have called Hagley home for the past two centuries. During the Holidays at Hagley celebration, you can enjoy holiday home and garden tours. They are also holding their annual gingerbread house competition (back for its fifth year). You can view entries from local individuals and families in the barn. If you can't make it during the day, stop over for an evening twilight tour.
Fire & Ice Festival
The winter fun doesn't end after Hanukkah and Christmas. If you're up for a two-hour drive, you can keep the party going by visiting Bethany Beach—a delightful resort town that goes all out for the season. This season, the Fire & Ice Festival is being held from January 27 through 29, 2023, with a "Movie" theme. Take the tasting tour with 10 signature-themed cocktails. You'll also enjoy some "Movie Magic," ice slides, fireworks, music, live ice sculpture demonstrations, and ice sculpture tours. Be sure to check out the ice sculptures on the beach after the sun sets; they use special lighting to make the scene magical.
In the market for luxury town houses in Greenville, DE?
One of the best parts of living in Greenville, DE is that it's a quiet, friendly little suburb, yet it's also close to exciting amenities that you'd expect to find in a major city.
Thinking of moving here? Call Montchanin Builders today to inquire about our luxury townhomes near the former Barley Mill Plaza. Our master-planned community, The Townes at Barley Mill, offers luxurious living in an exclusive neighborhood of just 33 townhomes with spacious floor plans and incredible amenities, like your own private elevator (optional). Call today to schedule a viewing and ask about special financing arrangements!