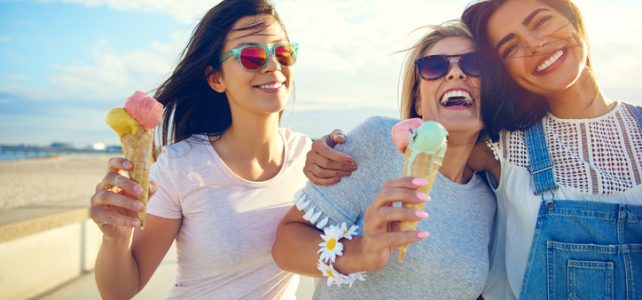 Cool Ways to Beat the Heat in Wilmington DE
Those who live in Delaware have come to expect high temperatures in late summer. Thankfully, there are tons of fun and interesting ways to beat the heat! Interested in buying a home in Wilmington, DE? From water parks and beaches to hip restaurants, craft brews, and great shopping, Wilmington gives you access to all kinds of uniquely cool ways to escape the summer heat.
Aquatic Adventures
A day in, on, or near the water is a late-summer staple in Delaware. There are incredible beaches on the ocean and the bay, like Cape Henlopen in Lewes, Rehoboth Beach, and Dewey Beach, where you can enjoy water activities from paddleboarding and jet skiing to swimming, or just relaxing on the sand.
There are also plenty of unique water parks. Check out Jungle Jims, Thunder Lagoon, or Killens Pond for water slides, lazy rivers, and plenty of cooling water.
Wilmington is also brimming with public pools and public spray parks that are not only free but also are great for kids of all ages. You can visit spray parks like Helen Chambers Park or Brown Park in the morning, and hit up public pools like Foster Brown Pool and Dupont Pool in the afternoons.
Hot Restaurants With Ice Cold A/C
Wilmington is home to a great food scene, with new restaurants popping up all the time. Take a break from the heat in an air-conditioned eatery on the Wilmington Riverfront, or take a gastronomic journey on the Delaware Culinary Trail.
If desserts are more your thing, be sure to visit UDairy or Mug & Spoon for a sweet and refreshing ice cream sundae or milkshake.
Chill Out With A Cold One
Craft breweries are taking over the country, and Delaware is no exception. There are tons of craft and microbreweries to visit in the Wilmington area, each offering frosty beverages with unique flavor profiles. Check out the Delaware on Tap app for a digital guide to the local breweries. The app even gives out prizes the more stops you make.
Take A Shopping Break
Malls and stores are known for pumping in crisp, air-conditioned air. Beat the heat and pick up some cool new outfits, gadgets, or gifts along the way in one of Wilmington's many malls. Tanger Outlets is all about great deals on major brands, while Christiana Mall is full of upscale shops and boutiques. You can also take a stroll down Milford, Newark, or Dover streets for unique-to-Delaware finds and deals.
New homes in northern Delaware
No matter the season, there are always lots of extraordinary things to do and see in Wilmington, DE. Montchanin Builders offers a range of new homes in northern Delaware that will place you right in the heart of this adventure-filled, recreation-rich city. Call us today to schedule a viewing of one of our luxurious and affordable move-in ready homes, or to learn more about our special financing deals!
Additional resources for homebuyers in Delaware:
Visit Delaware, Cool Ways to Beat The Heat, https://www.visitdelaware.com/things-to-do/seasons/summer/cool-ways-to-beat-the-heat-in-delaware/
Delaware Online, Places To Cool Off In Delaware, https://delawareonline.com/story/news/2019/07/18/excessive-heat-places-cool-off-delaware-hot-and-humid-weather-lingers/1763736001/
Visit Wilmington, Things To Do, https://www.visitwilmingtonde.com/things-to-do/