Delaware Living Means Tax-Free Shopping!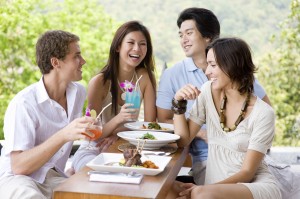 For a veteran of the shopping wars, the mere thought of walking up to a department store register under an armload of the latest fashions and sailing through without paying any sales tax is enough to send shivers up the spine. Welcome to Delaware, where tax-free shopping is one of the great pleasures of living in this amazing state!
It's a fact that citizens of Delaware buy more for less simply because they pay no sales tax. And if a Delaware shopper goes to one of the very popular outlet malls, they'll get a double savings! One, because of the great discounts you'll find on all clothing, accessories, gifts, and the like and two, because you won't pay any sales tax.
If you're out shopping to see if Delaware living is for you, be sure to stop at the Christiana Mall on Route 1 just off Exit 4 on I-95, Delaware's most upscale retail experience. Home to Abercrombie & Fitch, Apple, A/X Armani Exchange, American Eagle, Anthropologie, Aeropostale…. well, these are only the A's, but you get the idea!
Delaware living is smart living
If you're thinking of doing some house hunting, take a look at some of the most affordable and luxurious new homes in Delaware just eight minutes up 1-95 at Montchanin Builders' Darley Green development. This delightful master-planned community of brand new move-in ready townhomes and condominiums combines 21st century amenities and maintenance-free living with the charm of small town life.
Montchanin Builders is one of the tri-state area's most respected builders known for high-quality communities like Darley Green as well as an extensive portfolio of custom homes. Call Montchanin Builders if you're considering a move to Delaware so we can arrange a personal tour of our beautiful condos and townhomes at Darley Green.
Tax-free shopping is one of Delaware's great pleasures
Indulge yourself at another of Delaware's fabulous tax free shopping experiences at Tanger Outlet Center in Rehoboth Beach. One hundred thirty of America's great retailers are represented in this renowned beachfront destination with terrific savings direct from the manufacturer. Brand name stores here include Polo, J. Crew, Nine West and more.
If you're more into crafts or antiques, you'll want to take a quick trip up the Delaware coastline to Lewes. Pick up a little something for a friend at one of the charming shops in Lewes, and then stop in for a tasting and a bottle or two of wine at Nassau Valley Vineyards.
Whatever your shopping pleasure, Delaware is considered one of America's great retail meccas not only for its selection of places to shop but because it's all tax-free! Manufacturers' outlets, charming boutiques, department stores—-Delaware shoppers buy more for less!
Affordable & luxurious new homes in Delaware
Thinking of a move to Delaware? Montchanin Builders can offer you great options whether you are looking to renovate your existing home, build a custom designed dream home, or buy a move-in ready townhouse or condo.
For more information about Darley Green townhomes in DE, please email amaluski@montchaninbuilders.net or call 302-472-7213 to speak with a representative from Montchanin Builders.