The Joys of Spring & Summer Delaware Living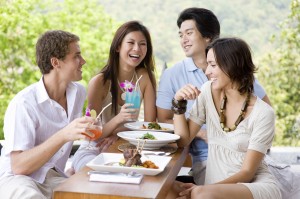 When the warm weather comes, Delaware has a coming out party like no other state in the Union. Blessed with such spectacular natural beauty that Thomas Jefferson called it "a jewel among states," Delaware shows off its best features in spring and summer — gorgeous beaches along a 28-mile coastline, stunning national parks, winding river valleys, and mile after country  mile of flowering trees and lush greenery.
To enjoy the essence of warm weather Delaware living, look no further than the hundreds of art, music and food festivals across the state this Spring. You'll soon understand the wonderful blend of people, culture, natural beauty, and charming small town living that defines Delaware.
And speaking of lovely small town living, be sure to stop in to see Darley Green's master-planned community of gracious townhomes and Delaware condos. Darley Green, the sixty-seven acre centerpiece of the historic Claymont Renaissance District, is one of Delaware's most important communities offering its residents a delightful blend of small town life just minutes from the entertainment and attractions of Wilmington, the Brandywine River valley, and Philadelphia.
Outdoor Delaware living for every taste
Warm weather brings everyone outdoors, so do as the locals do, and head for the Wilmington Riverfront, a 1.3 mile stretch along the Christina River. Young or old, family or single, this exciting area is an irresistible magnet for history buffs, sports fans, joggers, strollers, shoppers, culture hunters, and foodies. Craft beer bars, innovative new restaurants with top young chefs, fun brunch and night spots, fabulous steak and seafood houses, and alfresco decks on the river make the Riverfront a warm weather must.
And is there anything that says summertime more than a hot dog and a soda or beer at a baseball game under the lights? Go watch future major league stars at Frawley Stadium, home of the Wilmington Blue Rocks, a Kansas City Royal affiliate, for one of America's unforgettable small town experiences—minor league baseball.
Need more? Visit the state parks for hiking, kayaking, camping, biking, fishing, horseback riding, and swimming—any outdoor activity you can think of, Delaware has it!
Experience the cultural treasures of Delaware this summer
When you're tuckered out from the outdoors, a fantastic way to check in on some of the cultural offerings of Wilmington and the Brandywine Valley is the Brandywine Treasure Trail Passport, which offers great discounts for individuals and families to eleven of the area's best attractions.
Get yourself a Treasure Trail Passport and visit the Brandywine River Museum of Art, the Delaware Art Museum, the Delaware Center of the Contemporary Arts, the knockout beauty of Longwood Gardens, Winterthur Museum, and several other wonderful destinations, all minutes from the condos and townhomes at Darley Green.
Smart buyers are snapping up Delaware condos
This is a perfect time of year to go house hunting in Delaware at Darley Green. Designed to provide affordable luxury and maintenance-free livability, the beautiful new two and three bedroom condos and townhomes at Darley Green are attracting a broad mix of smart buyers of all ages—singles, young families with children, and retirees—who seek the ease of Delaware living at a great price. They also know Delaware's reputation as one of the most tax friendly states in the Union—no sales tax, no estate tax, and a very low income tax rate.
They're also taking advantage of one of the best features of Darley Green—its fabulous central location. When you live at Darley Green, you are 5 minutes from the I-95 corridor to NYC, Boston, and Washington, DC, 2 minutes from I-495, and just 15 minutes from Philadelphia International Airport. Baltimore is a one hour drive, and New York City is only two hours away.
If you're a single professional or a couple, a young family starting out, or an active retiree, you owe it to yourself to visit Darley Green and see why our homeowners are so happy. For more information, please contact our sales manager at 302-655-2600 to arrange a tour.