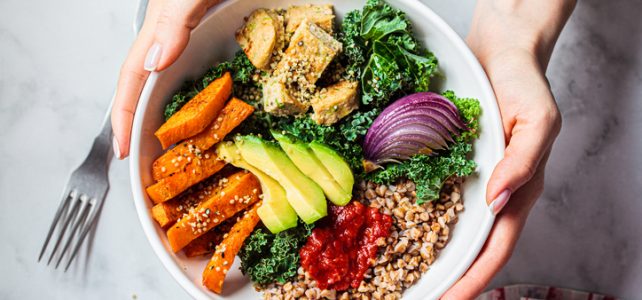 Most Popular Vegan Menus in Wilmington, DE
By and large, vegan food tends to be more sustainable and healthier than omnivorous food. But whether you're a diehard vegan or just dipping a toe into the plant-based waters, it isn't always easy to prepare vegan meals at home, particularly if you also have a food allergy or gluten sensitivity. Take the burden off by enjoying the scrumptious fare from the many vegan-friendly restaurants in the Wilmington, DE area—many of which also offer gluten-free or other allergy-friendly options. Drop Squad Kitchen, Daily Veg, and Delectablez are three of the top options.
Drop Squad Kitchen
Drop Squad Kitchen is a must-visit for any vegan or vegetarian living in the Wilmington area. They specialize in made-from-scratch plant-based food that offers a multicultural influence. Instead of batch cooking and microwaving orders as they arrive, each meal is made fresh when you order it. Try the vegan Philly "cheesesteak," vegan tacos, or black bean chili. They even have lobster mac and cheese (the lobster is made of hearts of palm). Many of their options are gluten-free as well, like the fishless tacos and specialty salads.
This popular eatery is located at 928 Justison Street. Their operating hours are subject to change, so be sure to check the website for any updates.
(302) 472-7212

Call for More Information About Luxury Town Homes In Wilmington, DE

Daily Veg
Daily Veg specializes in vegan comfort food. Everything on their menu is 100% plant-based, and they also craft their menu with an eye toward maximum sustainability. They serve up meals from 10 AM to 8 PM Monday through Saturday, and from 10 AM to 6 PM on Sunday.
If you go earlier in the day, you'll definitely want to try their signature acai bowls and pitaya bowls for a late breakfast. Try the Protein Powerhouse, which features acai, banana, almond butter, and almond milk to form the base, with granola, banana, strawberries, almond butter, and various seeds as toppings. They also make fresh smoothies, including Coffee Crunch and Island Breeze.
For lunch or dinner, you'll find a wide assortment of plant-based burgers, chick'n sandwiches, and wraps, along with sides like sweet potato tater tots. They even sell gluten and dairy-free milkshakes, including Oreo and Cookie Monster.
Delectablez
Delectablez offers plant-based foods so delicious that even non-vegans might consider switching to the other side. They specialize in sourcing the cleanest and freshest ingredients possible, often accomplished by hand-picking their own fruits and veggies. Every item on their menu is gluten-free, vegan, and organic.
Delectablez is one of the food vendors at the DE.CO Food Hall in Rodney Square in downtown Wilmington. They serve up breakfast all day, including their famous elderberry pancakes and breakfast sandwiches. For lunch, try the innovative Sweet Pineapple BBQ Hot Pocketz or the Boss Burger with cheddar cheeze and onion rings. The Peach Cobbla is a must-try for dessert.
Stop by and view townhomes for sale in Wilmington, Delaware
Wilmington, DE offers a wonderfully diverse restaurant scene, with plenty of options for both plant lovers and omnivores alike.
(302) 472-7212

Call Today for Details about our Barely Mill & Darley Green Community

Check out the townhomes for sale in Wilmington, Delawaretownhomes for sale in Wilmington, Delaware at Montchanin Builder's master-planned community of Darley Green. Or, consider the luxury town houses near Greenville, DE in the luxury neighborhood of The Townes at Barley Mill. Both communities offer everything you could want to come home to. Call Montchanin Builders today to request a viewing and discuss our special financing arrangements.