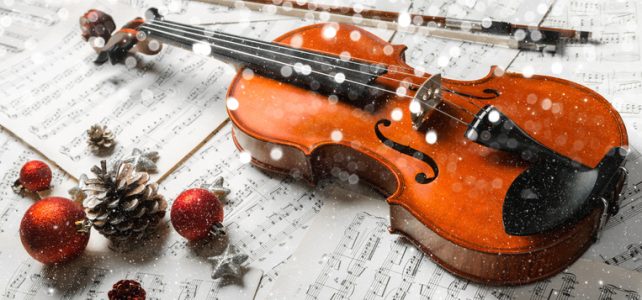 This Year's Top Holiday Concerts and Shows in Wilmington, DE
Wilmington, Delaware, is a cozy little corner of America that offers the friendly vibe of small-town living with the amenities of a major city. It's also pretty close to the bright lights of Philly, but you won't have to go that far to see some great holiday shows and concerts this year. Check out the Wilmington Children's Chorus, Irish Christmas in America, Holiday Dreams Cirque, or The Nutcracker, just to name a few.
Wilmington Children's Chorus
The Wilmington Children's Chorus gets the holiday season off on a cheerful note with their concert in early December. You can celebrate the spirit of the holidays with the performing choir during an evening performance on Friday, December 2nd or a matinee on Saturday, December 3rd. These talented kids will perform holiday selections in the hip-hop and R&B genres. Tickets range between $10 and $20.
Irish Christmas in America
If you like Irish music, you'll love this spin on popular Christmas music. Enjoy the beautiful work of vocalist Catriona Sherlock, fiddling by Oisin Mac Diarmada, and old-fashioned Irish dancing by Samantha Harvey. They're planning to perform at Copeland Hall in Wilmington on December 10th only, so don't wait too long to buy tickets. The show starts at 8:00 PM.
Holiday Dreams Cirque
Holiday shows aren't just about music. If you enjoy seeing daredevil acrobats, interactive lasers, and holograms, you can't miss Holiday Dreams Cirque. They're presenting their holiday show at The Playhouse, all set to modern music and with incredible theatrics. You can see them on December 10th at either 2:00 PM or 8:00 PM, or on the 11th at 2:00 PM.
The Nutcracker
The Nutcracker is a classic holiday performance that never gets old. This December, you can see this beautiful show right here in Wilmington. The Nutcracker was originally a story written by E.T.A. Hoffmann and set to music by none other than Tchaikovsky. Enjoy the tale of Clara, a girl who receives a nutcracker doll on Christmas Eve and finds herself swept into a fantasy realm.
This December, Delaware's own First State Ballet presents The Nutcracker at Copeland Hall. They will hold performances from December 16 through 18 at varying times, including both matinee and evening performances. Musical accompaniment is by the Wilmington Ballet Orchestra and the Wilmington Children's Chorus, along with special guest artists.
The Runnin' Late Holiday Show
If you're in the mood for something a little different this holiday season, check out the Runnin' Late Holiday Show. Runnin' Late is a homegrown classic rock band that counts jazz and blues artists among their influences. This year, they're putting on a holiday show, presenting their own spin on favorite holiday music. You can catch them at The Queen in Wilmington on Friday, December 16 at 8:00 PM.
View homes for sale in Wilmington, Delaware
These incredible holiday shows and concerts might only be available for a brief time, but the perks of living in Wilmington will last a lifetime. When you come home to Wilmington, you'll love the mouthwatering dining scene, boutique shops, and beautiful nature trails.
Check out the new construction homes in New Castle County, Delaware built by Montchanin Builders. Our master-planned communities of The Townes at Barley Mill in Greenville and Darley Green in Wilmington features luxurious townhomes and two-story condominiums with plenty of space and modern floorplans. Call today to schedule a viewing!